Friday Night Five – February 24, 2017
You may ask yourself, what is this theme this week? And you may say to yourself, why is there so much death? And you may say to yourself, how did we get here? It's been a rough week for me here at Strawberry Tongue. Not because of anything music-related at all, but, because I had to put my little dog Polly, to sleep. She was a 17-year old, blind, diabetic Chiweenie who had chronic kidney failure and most recently, diagnosed with cancer. Coming in at ten pounds, the little fur face ruled my world. It's just by a weird coincidence that a couple of the bands that sent me music this week had "death" in their names, so, I went with compatible themes – death and love. Call me morbid or call me awesome, I think you will love tonight's lineup as much as I do.
---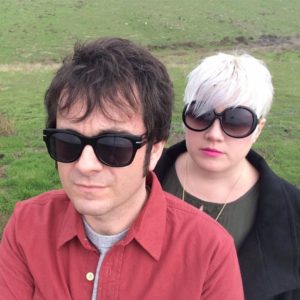 Fawns of Love are a husband wife dreampop duo from Bakersfield, California. Jenny and Joseph Andreotti have been playing music together for well over a decade. Their approach to dreampop is lusciously colored by influences such as Cocteau Twins, My Bloody Valentine, Blur, and Slowdive. Their sound is warm, sensual and atmospheric. The pair are releasing their debut album, Who Cares About Tomorrow, on March 3rd. Tracks featured tonight from that release include "Silly Boy," "That's What We Do," and "Miranda."
---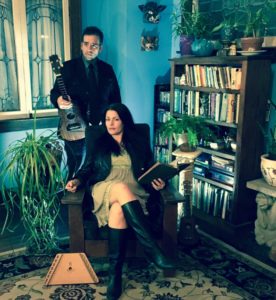 After Death Plan is the songwriting team of Lesley Ann Fogle and Constantine Hondroulis. The pair recorded dark narrative songs as part of Lesley's 20 year-old Chicago-based music collaborative Mal VU. They describe their music as American Gothic Nous Rock, which combines elements of neo-folk, cabaret and pop standards. Their songs are inspired by or dedicated to authors and books. Lesley's voice has the quirky element of jazz singer Blossom Dearie and their overall style relies on haunting, infectious melodies.  Blending beautifully with the song structures of Nick Cave and the Bad Seeds, PJ Harvey, Leonard Cohen and Black Tape for a Blue Girl, there music could best be described as an incantation of the early 4AD sound.  It was very hard to narrow down three of their tracks tonight, but, we are featuring "Picking Bones," "Into the Grey," and "The Sea and the Earth Gave Birth to Wonder."
---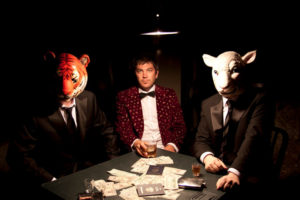 Fake Your Own Death is a quartet from San Francisco comprised of Terry Ashkinos, Scott Eberhardt, Adrian McCoulough and Izzy Chavarin. Their premise? You don't have to die to start over but you might have to pretend to. Blending influences of post-punk, new wave, and darkwave, the band plays a shimmering, dark and psychedelic indie rock. Their lyrics are fearless, confessional and defiant.  Recently releasing their album The Wake, tracks featured tonight include "Write-in Candidate," "Death Star on the Sea," and "Close."
---
Chris Connolly is a singer songwriter who has divided his time between England and the U.S., now calling New York City home. He's got an effervescent songwriting style that combines catchy melodies, sweet harmonies and bright and sparkling guitar riffs. His style, influenced by American roots music and modern alt-rock, has a bright and hopeful vibe. His strong sense of spacial relationships in vocals, acoustic guitar and minimal percussion lend a quiet confidence to his sound. Tracks featured tonight include "Black Swan," "Not Alone," and an Strawberry Tongue favorite, "Colder."
---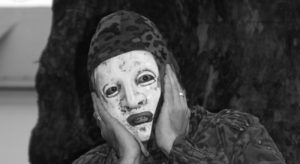 Death in June is a neo-folk group that has been pushing buttons and boundaries since the 80's. Frequently using controversial imagery and themes of Nazi Germany, the group has landed in the hot seat more than once. Recently cited as a neo-Nazi group by the Southern Poverty Law Center, their label, Soleil Moon, has been listed on "National Hate Group Registry." Death in June is one of over 120 bands on the label. Critics have suggested SPLC has overreached its boundaries, but, in the current political climate, it's completely understandable. Any way you look at it, their imagery and songs are provocative and open up dialogues of creative freedom, the limitations and explorations of art, free speech and guilt by association. Tracks featured tonight are from a range of their back catalog and include "Little Black Angel," "To Drown A Rose (John Balance Vocals)," and "She Said Destroy."
---
Tonight's bonus tracks are all new material that has been recently released.
The Grey Merchant is new to our playlist and we are showcasing their song, The Last Transmission. Heralding from Cork, Ireland, the trio plays a blistering and vibrant indie rock.
Phantom Tails is a deep-space doom-funk quartet from Minneapolis, that has been a long-time favorite of Strawberry Tongue. Tonight's track "Don't Vanish" is from their 2017 release Horizon, Check.
PVT is an electronic trio that is another STR favorite. Tonight's track, "Morning Mist, Rock Island Bend," is from their 2017 release New Spirit and is an atmospheric, distorted nine-minute track.
---
That's it for this week's edition of the Friday Night Five. Be sure to tune in to Strawberry Tongue Radio at 19:00, 21:00 and 23:00 EDT to hear selected tracks from each of these bands. Visit their websites for more information about their latest work and to purchase their tracks.
Listen to Strawberry Tongue Radio to hear our unique playlist featuring current and classic artists playing post punk, new wave, indie, electronic and experimental music.