Friday Night Five – July 29, 2016
This week, I am broadcasting again, from beautiful Basel, Switzerland. It's by an unusual circumstance that I have had to opportunity to discover this gorgeous city in 2016, so I am spending some time exploring the Swiss music scene, which has been fairly elusive to me. This week, I branched out further from the city of Basel and I stumbled across a number of artists who I immediately connected with their sound. From Basel to Zurich, I have uncovered more gems from the land of neutrality, mouthwatering chocolate, delectable cheese, Dadaists, secret bank accounts, and, of course, Swatch watches. Honestly, their best kept secret might just be their music.
---
Verena von Horsten is a singer songwriter who combines the sounds of vintage synths with heavy percussion and dramatic, theatrical melodies to create a breathtaking, and slightly creepy, cabaret-esque sound. Hailing from Zurich, she credits her diverse musical sound to living with parents whose musical tastes ranged from The Beatles, Elvis Presley, Pink Floyd, Mercedes Sosa, Pablo Neruda, Maria Callas, Turkish and Greek folk music, and Reggae. Her last album, Alien Angel Super Death, was released in 2015, and Verena describes it as a working progress of the grief she experienced after her brother's death by suicide.  It is a stunning album that is dark, somber, shimmering, delicate, rocking, and empowering. Tracks featured tonight include "The Hymn," "What You Say," and "Sakrament Der Büffelherde."
---
Emilie Zoé is singer and songwriter who is quirky, charming and quite simply an authentic soul. From Lausanne, she taught herself how to play guitar and write music from an early age. Then, making connections at the local shows she went to, she was convinced to follow her musical leanings at the age of 18. She has toured Europe extensively and previously released her first LP in 2013. Her songwriting and delivery is reminiscent of early PJ Harvey, with confrontational lyrics, stripped down guitar and vocals, and use of analogue 4-track recorders. Her music is so incredibly genuine, with every nerve exposed, it's hard to not be immediately lured in by her unadulterated rawness. Tracks featured tonight include "It's Only Me on a Dead-End Tape," "I Found a Girl," and "My Shadow on the Wall."
---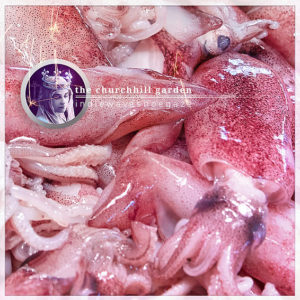 The Churchill Garden is a one-man shoegaze project from Andy Jossi who resides in the city of Lucerne. Growing up during the late 80's, he was a fan of bands such as The Cure, Cocteau Twins, Joy Division and later, bands of the shoegaze era including Slowdive, Lush and Pale Saints. A musician and photographer, he prefers working alone as he doesn't like to tour and has released a number of his tracks on both Bandcamp and Soundcloud. His sound uses tons of luscious reverb, effected hushed vocals and tender,  sweeping and somber melodies.   Tracks featured tonight include "The 8th Day," "Sleepless," and "Forever."
---
Touch is a dreampop trio consisting of Christoph Barmettler ( vocals, guitar), Dominik Bienz (drums ), and Olivier Vogel (bass) that hails from Lucerne. Lo-fi guitars lay a gentle rhythmic base for delicately restrained percussion and sweeping synths. The beauty in their material is how disciplined they are with each tone, gently playing off every note, hanging on to a thread to weave a gorgeous web of sound. It's delicate, it's dreamy and simply irresistible. Their self-titled debut album was just released in May of this year on the Oh, Sister Records. Tracks featured this evening include "Loss," "In The End," and "M.O.B."
---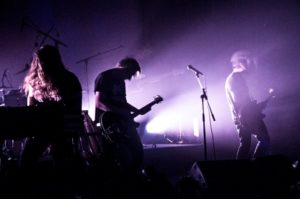 Schwarz is a dark pop trio from the Jura region of Switzerland. Members Romain Siegenthaler and Antoine Kaufmann (Static Frames) and the singer Danaé Leitenberg (Projet Virgile Crelier) combine pop, electronica and dark themes to bring you to into a murky underbelly where darkness and light collide. Their self-titled release opens with the pulsing instrumental Intronaut and opens the door to one mesmerizing track after another. Tracks featured include "Intronaut," "Hide," and "Concrete Bliss."
---
This week, a special shout out goes to Michi at Plattfon Records, who introduced me to a bunch of new and classic Swiss postpunk, indie, experimental and electronic bands while visiting his shop. Look for those bands in an upcoming feature. If you are in Basel, Switzerland and looking for rare vinyl, great books and new or used CDs, check out Plattfon. You won't be disappointed!
---
That's it for this week's edition of the Friday Night Five. Be sure to tune in to Strawberry Tongue Radio at 19:00, 21:00 and 23:00 EDT to hear selected tracks from each of these bands and be sure to visit their websites for more information about their latest work and to purchase their tracks. Also, be sure to listen to Strawberry Tongue Radio to hear our unique playlist featuring current and classic artists playing post punk, new wave, indie, electronic and experimental music.