Friday Night Five – May 20, 2016
This week, I am broadcasting from beautiful Basel, Switzerland. I am mere steps away from the gorgeous Rhine River. Before my trip, I researched the Basel music scene not knowing what to expect. I know very little of the popular music climate of Switzerland and have been pleasantly surprised. Let me share some of my discoveries with you.
---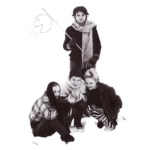 Kleenex / Liliput is actually the only band that I knew of prior to my trip. A female fronted punk band that was active from the late 70's to the early 80's, these ladies put the Swiss music scene on their ear. Starting out with the name Kleenex, they changed their name under pressure from the tissue company.  They had many lineup changes with only two consistent members, guitarist/bassist Marlene Marder and bassist/guitarist Klaudia Schifferle. Touring with contemporaries such as Gang of Four and Spizzernergi, their absurd, dadaist sense of humor that is woven throughout their songs which have many political undertones.  Tracks featured include "Nighttoad," "Ain't You," and "Nice."
---
L'Arbre Bizarre is a quintet that draws inspiration from a variety of musical styles. From post punk to grunge, psychedelic to new wave, their sound is distinctly modern and yet familiar. Their diverse influences lend a gloomy, noisy and sonic assault on your senses. Tracks featured include "Out of the Reach," "No Signal (featuring OSZILOT)," and my very favorite, "Opaque Mirror."
---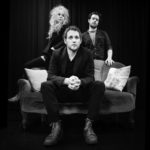 Goldbarne is a sumptuous three-piece that plays a hushed, acoustic indie folk that is heart-rendering. Comprised of guitarist Dragan Pijetlovic, double bassist Marian Rivar and vocalist/lyricist Frank Wenzel Both, their music is both beautiful and sad. Delicately it speaks of longing, unrequited love, and fleeting dreams. They released their gorgeous EP "Wintergreen" in April of this year and you can purchase it on their Bandcamp page. Songs featured include, "In This World," "Wintergreen," and the haunting "The Lure."
---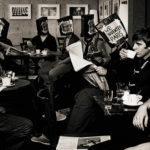 We Invented Paris is a spectacular collective of musicians with one static member and a rotating lineup that helps shape their unique indiepop sound. The concept of the Swiss singer Flavian Graber, We Invented Paris, was born out of Graber's realization that he wanted an exchange of creative ideas in the recording process. He assembled friends from Switzerland and Germany to help shape his collective. Their indie-sonic roots are ever-evolving as members may come and go throughout the process, which allows for a unique expansion. Songs featured include: "Treeless," "Nothing to Say," and "Sleeptalker."
---
Anoraque is an irreverent, balls to the wall alternative rock band that derives inspiration from postpunk, math rock, shoegaze and experimental music. With intricate  rhythms, driven by bombastic guitars and complex drumming, it could almost be too much sensory overload. But, the delicate vocals of their singer Lorraine balance this intense, noisy, evocative and powerfully irresistible blend of styles. Tracks featured include, "Mental Green," "Still You," and "Think Don't Suppose."
---
That's it for this week's edition of the Friday Night Five. Be sure to tune in to Strawberry Tongue Radio at 19:00, 21:00 and 23:00 EDT to hear selected tracks from each of these bands and be sure to visit their websites for more information about their latest work and to purchase their tracks. Also, be sure to listen to Strawberry Tongue Radio to hear our unique playlist featuring current and classic artists playing post punk, new wave, indie, electronic and experimental music.