Friday Night Five – May 27, 2016
This week's edition includes a mix of old and new bands that have been an ear-worm for me this week. I won't lie, there is a definite postpunk flair this week, which is shockingly consistent for me. Many of these bands have had some presence on Strawberry Tongue over the years and I am super excited to highlight their work – both past and present. I think you will find that even though their styles are slightly different, they each complement the others work beautifully. I spent some time in Switzerland last week, which was a stunningly beautiful country. It put me in a very reflective mood, which is part of the inspiration to this playlist.
---
The Battles of Winter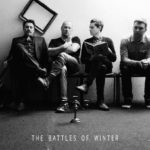 is a group that I have had on the Strawberry Tongue Playlist for a couple of years. They are a postpunk group that originally started in London and is now spread out. They describe their sound as both mournful and uplifting.  Rich, dramatic and darkly twisted layers make for huge sonic walls and atmospheric sounds. The lineup consists of Alistair Gale, Lucas Manley, Graeme Dinning  and Martin Good. Their latest single, Love's White Thread is available for download today and is featured on tonight's playlist along with "Where Did You Get Those Fireworks" and "A Blackout for the Bloodsuckers."
---
The Harrow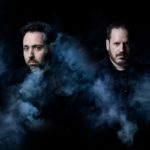 is postunk group from New York. Their electronic driven sounds fringes the delicate edges of dreampop with a dancefloor sensibility and combines rhythmic drumming and spacious guitar that leaves haunting melodies that you will not be able to easily untangle it's delicate sonic spiderweb. The group consists of Vanessa Irena, Frank Deserto, Barrett Hiatt and Greg Fasolino who have released a number of tracks both on their own releases with with others. Tracks featured tonight include "Requiem," "Violets," and their newest single, "Dirty Minds."
---
Maths and the Moon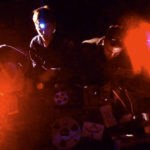 are a band that has a unique sound that doesn't quite place them in dreampop or shoegaze, postpunk or psychedelic pop and yet, these influences are woven throughout their music. Their sound is enveloping, and familiar and yet distinctly modern. Band members consist of Andy Fielder, Luke Taplin and Matt Hirst and they have released a couple of full length albums over the last few years.  Tracks featured tonight include "Futurist," "Boomerang," and "Psyche-seeing."
---
Asylum Party is a French group that formed in the mid-80s and released three albums before they disbanded in the early 90s. As part of what was known as the "Touching Pop" movement, their sound pulled inspiration from French coldwave, postpunk, pop and electronic music scenes throughout Europe. Their sound is dreamy, with lo-fi percussion and haunting melodies. Tracks featured include; "Madhouse Green," "Old Dreams are not Innocent,"  and "Winter."
---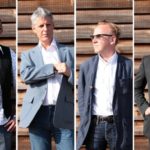 Modern English is a band that is one of my very favorites of the postpunk era. Originally forming in 1979, they have remained active for the better part of the last thirty five years. Their debut album on the 4AD label was released in 1981 entitled Mesh & Lace and is widely regarded as one of the finest of the genre. Filled with atmospheric noise, driving guitars and nestled atop a swirling bed of synths, this album epitomizes the sound of postpunk. This year, Modern English have decided to tour to promote this amazing album. The band is also currently using crowdfunding as a means to record new material in 2016.
---
That's it for this week's edition of the Friday Night Five. Be sure to tune in to Strawberry Tongue Radio at 19:00, 21:00 and 23:00 EDT to hear selected tracks from each of these bands and be sure to visit their websites for more information about their latest work and to purchase their tracks. Also, be sure to listen to Strawberry Tongue Radio to hear our unique playlist featuring current and classic artists playing post punk, new wave, indie, electronic and experimental music.