Friday Night Five features five bands that have been added to the playlist this week. They cover a wide range of musical styles including indie rock, post-punk, new wave, electronic, experimental, shoegaze, coldwave, dreampop and more. Tune in to Strawberry Tongue Radio at 19:00, 21:00 & 23:00 EST to hear the complete show. Here's a quick peek at tonight's lineup.
---
The Shifts are a four-piece indie rock outfit from Eugene, Oregon. Comprised of Macks Johanesen (guitar/vocals/electric sitar), Jeff Kretsinger (bass), Eli Tocchini (drums/monotone chanting) and Maci DeBlanc (keys/backup vocals) the group creates an uplifting, quirky and hard-hitting indie rock sound. Combining influences such as shoegaze and dreampop paired with a strong dose of tongue-in-cheek the group has been releasing music since 2013. They released their self-titled album in August of 2016 where tonight's tracks are from. They include "Spring," "Iron and Sand" and "Knowing Me."
---
Static Masks are an indie rock band based out of New Orleans. The foursome is comprised of Patrick Bailey, (Guitar, Vocals), Ben Belou (Bass), Eric Dauzat (Guitar, Vocals), and Robert Landry (Drums). Their sound has elements of experimentation, along with a straightforward rock vibe. They are releasing their debut album, "Late Bloomer," on March 24th. Tracks featured tonight are included on that release and include "Waves," "Clear Lake, TX," and the title track "Late Bloomer."
---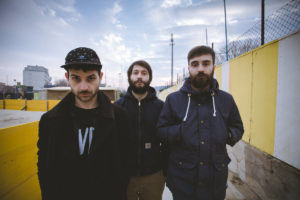 Soviet Soviet is post-punk revival trio out of Pesaro, Italy. Members Alessandro Constantini (guitar), Andrea Giometti (bass, vocals) & Alessandro Ferri (drums) have released a handful of albums since 2015. The group released their fourth album, "Endless Beauty"in late 2016. Tracks featured tonight are from that album and include "Endless Beauty," "Fairy Tale," and "Pantomime."
---
Orsak:Oslo post-rock band based out of Sweden that plays a low, depressive and instrumental drone blues. Their sound crosses over post rock and psychedelia to create an acid stoner rock. They have recently released their fifth EP, "Flodvåg," from which tonight's tracks are from. They include "043 Flodvåg," "044 What Oceans Took," and "048 Obscura."
---
Heart Years is an electronic dreampop project out of London. His sound is melodic, expansive and drenched with synths. Inspired by lost thoughts, hopeless ideals, and 80's fade outs, he creates a wistful ambiance with his music. I have two tracks featured tonight including "Carry Me" and "The Great Fades."
---
Bonus tracks tonight include:
5 (

Valentin

Liechti

) by UFO, a Swiss experimental trio that focuses heavily on improvisation.
Daisy by Ohyeahsumi, a bedroom pop sister duo, Rena and Lena Vernon, from Los Angeles.
Soho by Vassals, an indie rock band that combines shoegaze, hardgaze and psychedelia.
---
That's it for this week's edition of the Friday Night Five. Be sure to tune in to Strawberry Tongue Radio at 19:00, 21:00 and 23:00 EDT to hear selected tracks from each of these bands and be sure to visit their websites for more information about their latest work and to purchase their tracks. Also, be sure to listen to Strawberry Tongue Radio to hear our unique playlist featuring current and classic artists playing post punk, new wave, indie, electronic and experimental music.