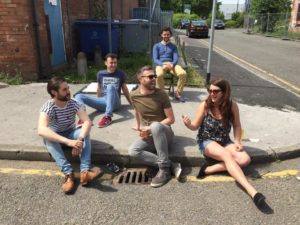 Cowards is the product of three Manchester musicians who were disillusioned by the music scene. Mike Charles, Grant Tildsley and Iwan Jones all worked with numerous bands and decided they wanted to create music with meaning, determined to create beautiful sounds before ever playing a gig. Fusing a blend of post-punk, post rock, electronic and grunge, they play a sexy and seething modern melange of indie rock. Tracks featured tonight include "Chosen (The Great I Am)," "What the Dickens," and "The Cut."
---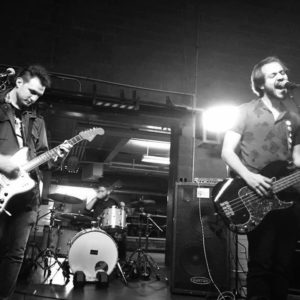 The Standby with influences of The Cure, Slowdive and Radiohead, this Erie, PA trio creates a powerful blend of indie rock and shoegaze melodies. Huge walls of sound are created by this three-piece comprised of the Jacob, Jordan and Jake, three friends who recorded their first EP in the same basement where they practice. Their songs are somber, with lyrics that are deeply personal. Tracks featured tonight include "Wernicke," "Passiflora," and "Frostbite."
---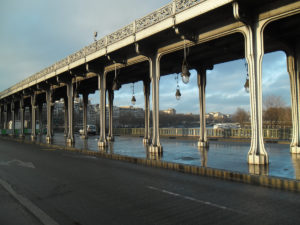 Erin at Eleven is a singer songwriter based in Scotland that has been writing music for over a decade. With influences such as Death Cab for Cutie, The Prodigy and Queens of the Stone Age, her sounds range from indie folk, electronic and emo. Her overall sound is melancholic and sublime. She has extensive collection of tracks to listen to on her Soundcloud page, which is highly recommended. Tracks featured tonight include  "Dubstep & Guitars Do Mix," "Song 1," and "Only Friends."
---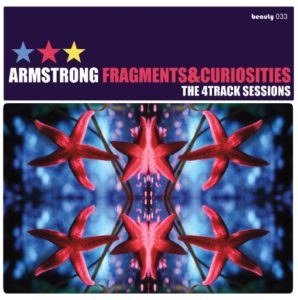 Armstrong is one of those elusive bands that you stumble across once in a lifetime. Focused on the songs of singer songwriter, Julian Pitt, he creates a unique blend of power pop songs influenced by songwriters such as Roddy Frame from Aztec Camera, Mark Kozalek of Red House Painters and and The Beach Boys. Their songs are wistful and melodic. Canadian label The Beautiful Music recently released "Fragments and Curiousities," an album comprised of rare tracks and semi-live rehearsals. Tracks featured tonight are from that release and include "When We Gonna Think About Life," "Apathy Took Me," and "No Time To Waste."
---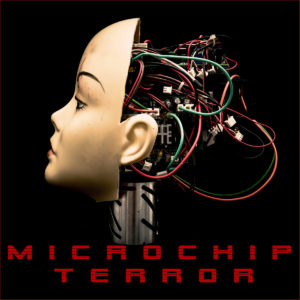 Microchip Terror was formed by JY Thrash in 2015 and blends the styles of synthwave, the early industrial style of EBM, with a dose of metal and a healthy dose of sci-fi and horor film sound tracks. It's both menacing and anthemic. The debut self-titled EP released on 17th January 2017 features Electric Dragon, former guitarist of Vallenfyre performing a guest guitar solo on a track entitled "Cyber Tyrants". Tracks featured tonight include "Cyber Tyrants," "Targeted for Termination," and "Relentless Bug Hunt."
---
I have several bonus tracks tonight including:
Mykel Jordan Tattoo is a project by another Strawberry Tongue favorite Onemanstanding. Track featured tonight is their debut release "8 PM Sunshine." Visit them on Twitter.
Xeresa is an electronic indie-pop project of Nicolas Pierre Wardell. Working with various artists, he has released a handful of singles. The track featured tonight is co-wrriten with Demi Haynes called "Raining on the Skyline."  Visit them on Bandcamp.
Antipole is are a Norwegian duo plays a beautiful blend of somber post rock songs. Minimal, darkwave-inspired guitar tracks push perceptions between fragility and strength are both thought provoking and a beautiful place to just reflect. Their music, like a gorgeous watercolor painting, reflects light and washes of darkness. They return with a Alexander Paris remix of their song "Narcissus." Visit them on Twitter.
---
That's it for this week's edition of the Friday Night Five.
Friday Night Five showcases five artists that we have added to the playlist this week. It airs each week on Friday evenings 19:00 EST and again on Saturday and Sunday at 1:00 & 19:00 EST.
Visit our featured artist's websites for more information about their latest work and to purchase their tracks.
Strawberry Tongue Radio broadcasts 24/7, 365 days a year. Our unique playlist features modern and classic post-punk, new wave, indie, electronic and experimental artists.