Silhouetes & Shadows : A Gothic Revolution 1978 – 1986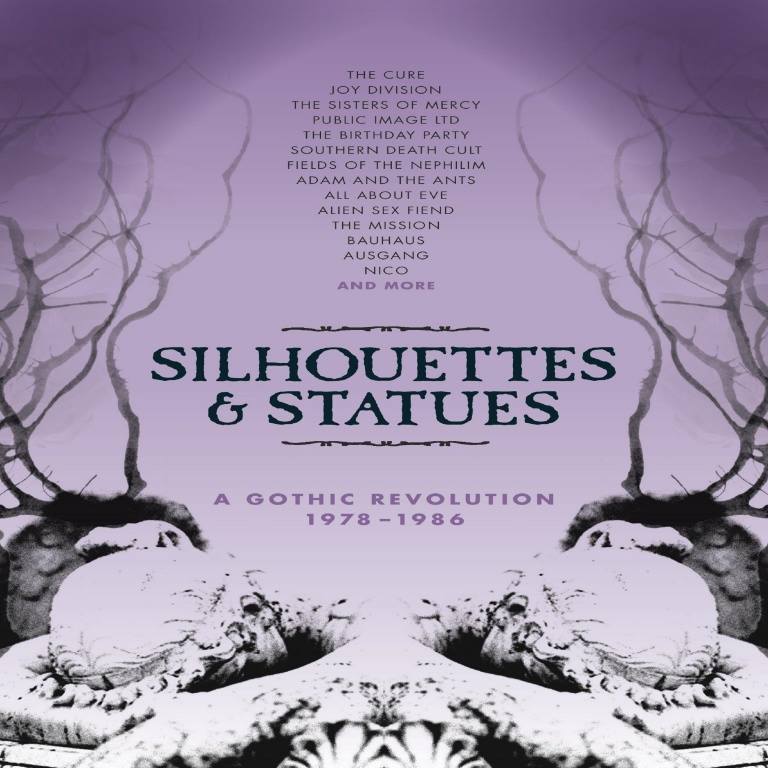 It has been said that during turbulent political times, that some of the most innovative and inspired music and art is created. Worldwide twenty-seventeen has proven to be one of those years. It comes as no surprise that Cherry Red has chosen this year to issue a compilation of music from the late 70's & early 80's, a similar time of worldwide political unrest. Entitled Silhouettes & Statues: A Gothic Revolution 1978 – 1986, this is a stellar five CD collection featuring artists near and dear to the aesthetic of Strawberry Tongue. With over 80 tracks from well-known to more obscure bands, exquisite liner notes featuring artist contributions, and never before seen images, this is the perfect primer that reads like a compendium of post-punk and gothic music of the era.
Many artists in this collection are already familiar to listeners of Strawberry Tongue. Our playlist regularly includes Cocteau Twins, Joy Division, The Cure, Danielle Dax, And Also The Trees, Alien Sex Fiend and Dead Can Dance. So, you can imagine my delight upon some lesser known bands such as Modern Eon, Tabathas Nightmare, Rema Rema, Neviluxury, Lowlife, Siiiii, Folk Devils and so many others getting their fair share of the spotlight in this tantalizing mix.
The late 70's were a unique time for music. Punk had blown the reality of the artificial fantasy that the pop and rock world had spoonfed the general public for decades. The grit and grime of every day life became the bedrock from which to draw inspiration. The frustration and anxiety of the political and spiritual landscape of a post-war, post-modern, post-illusion society were splayed for all to bear witness. Artists eschewed all that had been so keenly packaged in pretty pop, sparkly glam, rock 'n roll excess, and esoteric (and boring) prog rock aesthetics. It was all of this that shattered music into a post-punk, post-everything mirror with a thousand points of light. There would be no turning back, music completely altered and redefined to include bitter honesty and welcome detachment from an unreachable dream of modern day life. These are the first wave goths, coming to claim their rightful place in the monolith of modern music. These are the first wave post-punks who would find themselves continuing to inspire generations of artists after they first blasted on to the scene.
This stunning collection will be released on June 30th. You can pre-order it from Cherry Red. Below you will find a list of all the tracks you will find on this matchless collection. Be sure to tune in to Strawberry Tongue Radio to hear many of these artists on our regular playlist.
DISC ONE
Joy Division Shadowplay
The Birthday Party Release The Bats
Rema-Rema Rema-Rema
Paranoia Shattered Glass
Section 25 Charnel Ground
The Sisters Of Mercy Floorshow
Clock DVA The Female Mirror
UK Decay The Black Cat
Alien Sex Fiend Dead And Re-Buried
Love And Rockets Seventh Dream Of Teenage Heaven
The Associates Q Quarters
In Excelsis Carnival Of The Gullible
Nevilluxury Feels Like Dancing Wartime
Flesh For Lulu Vaguely Human
The March Violets Crow Baby
All About Eve D For Desire
Folk Devils Beautiful Monster
DISC TWO
Public Image Ltd Flowers of Romance
Danielle Dax Bed Caves
Southern Death Cult Moya
1919 Caged
The Cure The Hanging Garden
S-Haters Solitary Habit
Dead Can Dance The Arcane
Years On Earth Saving Face
In The Nursery Breach Birth
Play Dead The Tenant
Part 1 Ghost
13th Chime Cuts Of Love
The Tempest Ice Cold in
Screaming Dead Night Creatures
Bushido Among The Ruins
Portion Control Fiends
Actifed Creation
DISC THREE
Adam And The Ants Tabletalk
Balaam And the Angel The Darklands
The Legendary Pink Dots Love Puppets
Artery Into The Garden
Salvation Girlsoul
The Chameleons In Shreds
Schleimer K Fugitive Kind
The Bolshoi By The River
Gene Loves Jezebel Screaming (For Emmalene)
Lowlife Gallery Of Shame
And Also The Trees Out Of The Moving Life Of Circles
Siiiii Is Still
Tabathas Nightmare Heroin (Live At The Batcave)
Brigandage Angel Of Vengeance
Penetration Stone Heroes
The Rose Of Avalanche LA Rain
DISC FOUR
Furyo Legacy
The Mission Stay With Me
Nico Saeta
In Camera Fragments Of Fear
Dance Chapter Anonymity
Ausgang Sink Into You
Cocteau Twins In Our Angelhood
Sunglasses After Dark Morbid Silence
Fields Of The Nephilim Trees Come Down (Original Version)
Anorexic Dread Tracey's Burning
Red Lorry Yellow Lorry Take It All
Tones On Tail Burning Skies
Blood And Roses Spit Upon Your Grave
Threat Lullaby In C
I'm Dead Storm Pause
Zero Le Creche Last Year's Wife
DISC FIVE
Bauhaus Stigmata Martyr
The Wake Patrol
Specimen Returning From A Journey
Theatre Of Hate Original Sin
Attrition Birthrite
Sad Lovers and Giants Things We Never Did
The Damned Dr Jeckyl And Mr Hyde
Gloria Mundi The Hill
Dali's Car His Box
Inca Babies The Diseased Stranger's Waltz
Death Cult Ghost Dance
Modern Eon Euthenics
Ritual Mind Disease
Skeletal Family She Cries Alone
Bone Orchard Jack
Hula Ghost Rattle
Rubella Ballet Twister