Friday Night Five – February 10, 2017
Well, you know, it just happens that way. Music arrives in my email. I get really excited and then I throw it into one big pot. Sometimes it doesn't always make sense, and more often then not…it strangely does. Tonight's lineup is truly international with bands from the Ukraine, Australia, the UK and the USA all representing. From classic bands from the 80's & 90's to emerging bands, the lineup this week is juicy and delish.
---
Bad News from Cosmos is a Ukranian duo that creates dreamy, fuzzed out shoegaze that has been creating melancholic masterpieces since 2010. Exploring themes of love and death, the two combine classical composition with discordant mixtures of sound to create a unique, swirling  psychedelic-infused dark pop. Their latest release, Minn Sjó, is more pop accessible than some of their earlier work. Tracks featured include previous release "Not to Wake Up," and from their recent release "Kosmadomamama," and "Awesome."
---
Dallas Cosmas is a multi-instrumentalist who has been a stalwart in the thriving Melbourne music scene for three decades. He writes, performs and produces work as part of solo material, various bands and cinematic work. His material is filled with both sadness and joy, reflecting on the intricacies of life. His latest release, The Memory Keys was released in October of 2016. Tracks featured tonight included from that release are "The Midnight Road," "Bang Bang," and " House Calls."
---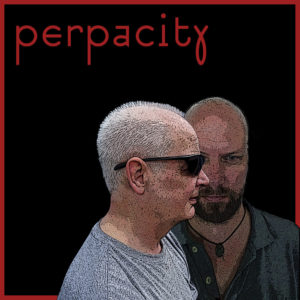 Perpacity is an electronic duo from both the UK and Denmark that have been creating music for over 20 years. Their sound is characterized by strong melodic songs and harmonies, characterized by their unique dark and moving electronic soundscapes. Ian Harling & Martin Nyrup released their latest album, Convergence, in October 2016 and tracks featured tonight from that release include "Suffocate," "The Truly Broken," and "Late Serenity."
---
Black Tape for a Blue Girl is a darkwave band from the U.S. that formed in 1986. Throughout the years, their unique musical style has consistently evolved, incorporating elements of dark cabaret, and classical themes of baroque and chamber music. The primary project of Sam Rosenthal, (Projekt Records), he generally writes the music, plays guitar and keys, writes lyrics and produces the band. The lineup has been dynamic and shifting over the years including members such as Brian Viglione (Dresden Dolls),  Athan Maroulis (Spahn Ranch/Noir), Laurie Reade (Kho Hat Hasa/Attrition), and Nicki Jaine. Usually described as "Gothic," their music is more ambient, theatrical and textural than what is usually found in the genre. It is poetic, melancholy,  and lyrically, often touches on emotional themes of love, vulnerability, isolation, loss, jealousy, and passion. The most recent release, Blood on the Snow, was released on January 1, 2017 and was, in-part, influenced by the dark times in current American politics. The four tracks on this release weep with worry, anxiety and hopelessness. Tracks featured tonight include "The Apostate" and the title track "Blood on the Snow."
---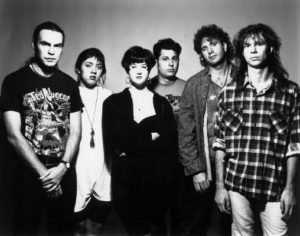 His Name is Alive is well known for their ethereal, mysterious and moody sound. Originating from Detroit in the late 80's, they began creating experimental basement folk (acoustic guitar + loops + girl) and were signed to the matchless British label, 4AD. The brainchild of Warren Defever, he's collaborated with many artists including Low, Iggy and the Stooges, Yoko Ono, Thurston Moore, Elizabeth Mitchell and even legendary stop-animation duo The Brothers Quay. Tracks featured tonight are from earlier releases including "Are We Still Married," "Princess," and "Why People Disappear."
---
I've included bonus tracks tonight from two emerging bands from the U.K.
The first is La Bête Blooms, who play a guitar-driven, melodic, wall of noise style of shoegaze. Hailing from Hull, England, this young group has powerful sound that is more rocking than swirling, with high energy indie rock chops. The track featured tonight is their single, "Breaking In."  The second bonus track I am featuring tonight is a band called Sorority that we introduced to the Strawberry Tongue playlist last September. This London quartet plays a blistering, brawn post-punk revival that draws inspiration from rock, blues and punk. They are noisy, snotty and full-on rocking. Tonight we introduce their new single "White White Walls."
---
That's it for this week's edition of the Friday Night Five. Be sure to tune in to Strawberry Tongue Radio at 19:00, 21:00 and 23:00 EDT to hear selected tracks from each of these bands. Visit their websites for more information about their latest work and to purchase their tracks. Listen to Strawberry Tongue Radio to hear our unique playlist featuring current and classic artists playing post punk, new wave, indie, electronic and experimental music.