Friday Night Five – January 6th, 2017
Greetings fans, friends, bands and freaks! It's 2017 and this is the inaugural Friday Night Five of the year. Let's kick it off with a variety of artists, in classic Strawberry Tongue style, to welcome in the new year.
---
Swain is the project of Sacramento artist Red Collier. His debut release is brimming with beautiful arrangements, wispy veils of reverb and fragile hushed lyrics. Collier's restrained performance creates a magical, uplifting blend of shoegaze and dreampop. Despite existential lyrical themes touching on world-weariness and the haphazardness of life, this album is far from morose. Rather, there is a hopeful resilience that shimmers between the open spaces between notes. Boundless, luscious and sincere, this is a strong debut album for Collier's captivating sound. Tracks featured tonight include "Everything Will Come Together," "Last Night" and the gorgeously winding "Time is not my Friend."
---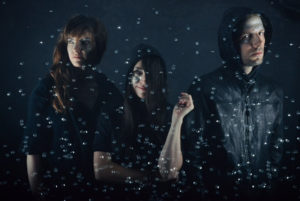 Screens 4 Eyes are an dream pop trio from Tel Aviv, Isreal. Comprised of Yael Brener (Leather Academy), Asaf Cohen (Shudu), and Roney-Leigh Dubnov (Opioids, Von Helix) they create a lusciously layered electronic darkpop that has the most delicate touches of melancholy and darksparkle. Their gorgeous sound transcends embraces global interconnectedness and self-awareness. They released their second album 'Behind These Doors' last month and its featured tracks tonight include "Screens for Eyes," "Channel to Id," and "Secret Life."
---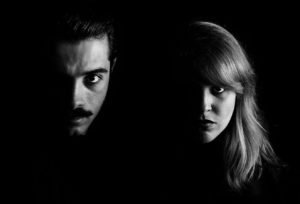 My Great Blue Cadillac is a coldwave duo from Montpellier, France. Louise and Eddy create grinding, gloomy, visceral, and pounding post-punk inspired tracks. The formidable duo draws inspiration from industrial, psychobilly, and rock, creating a subversive and sexy sound. Dark, raw and sinister, this is a bleak soundtrack for modern minds. Primordial drum tracks and sleazy guitars create a base for fiery vocals and angst-ridden lyrics. They recently release their EP 'Virus' on the Manic Depression label. Tracks featured tonight include "Away," "Virus," and an older track "Envy."
Facebook
Soundcloud
Manic Depression
---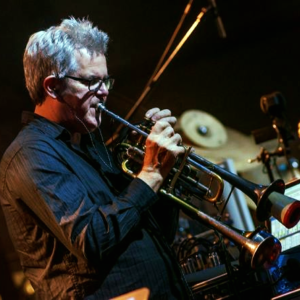 Ben Neill is a composer, performer and instrumental artist that has a unique sound that is fostered by his creation of a homemade instrument called the "mutantrumpet." Blurring the lines between DJ culture, experimental music and acoustic instrument performance, he fuses DJ culture, jazz and contemporary classic to create gorgeous sonic landscapes. His sound is expansive, dreamy and soaring. Originally developing the "mutantrumpet" in the early 1980s as an acoustic instrument – a combination of three trumpets and a trombone combined into one – he integrated the instrument in collaboration with the legendary synthesizer inventor Robert Moog. Since then, the instrument has become completely interactive with the computer for recording and performance purposes. Be sure to visit the links below to read the history of the "mutantrumpet" – it is simply fascinating.  Tracks featured tonight come from his 2015 release 'Horizonal' and include "Entre Deux" and "Sweetness and Light."

---
Vukovar is the project of Dan Shea, who is also involved with another Strawberry Tongue favorite, Nervous Wreck. Recently releasing a new post-punk driving single, "The Three Shades," it is b-sided with an experimental piece, "33/08/45 (Mourning of the Conqueror)" that feels desolate, post-apocalyptic and disquieting. Both of these tracks are featured in tonight playlist. Learn more about this project the Vulpiano Records pages below.
---
I've included several bonus tracks tonight including Liverpool's indie-rock 28 Costumes "Don't Go and Sleep Downstairs,"  Manchester dark-folk artist James Kruman with "Mahalo Mahaylo" and Liverpuddlian dreampop quartet Cascadia Fault Line with "Paper Stars."
That's it for this week's edition of the Friday Night Five. Be sure to tune in to Strawberry Tongue Radio at 19:00, 21:00 and 23:00 EDT to hear selected tracks from each of these bands. Visit their websites for more information about their latest work and to purchase their tracks.
Listen to Strawberry Tongue Radio to hear our unique playlist featuring current and classic artists playing post punk, new wave, indie, electronic and experimental music. The change will do you good.