Fresh Kill: Tearful Moon – In The Dark Morning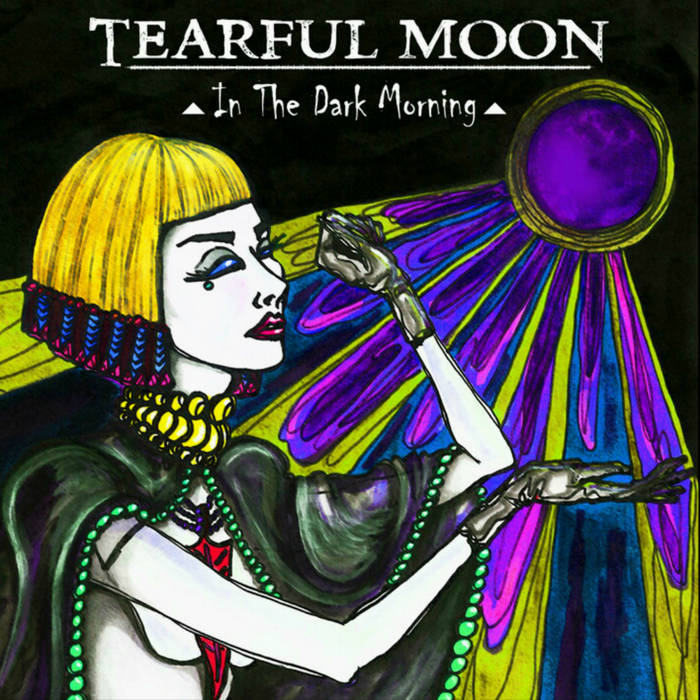 From the dark and sinister city of Houston (okay, maybe not so dark and sinister but work with me here), come the minimalist electrogoth duo Tearful Moon. Their debut "In the Dark Morning", released September of last year on Wave Records, pulsates and washes over in hues of black, purple and red –the colors of the dusk and night. Reveling in minor scale vintage synthesizer tones and simple drum machine beats, they show that the electronic darkwave music of yesterday is still alive and well today.
With "The Stoning" the tone and atmosphere is immediately set. Even though the beat is driven by synthetic bass drum with high register pad notes over the top, this is not a dance song and I'm sure DJ Vlad would raise an eyebrow if you were to request it during the weekly 'bat night'. "Blood on my hands, blood between my legs, a slave to scarlet stains. My pain is pure, not me," moans vocalist Skye Lesco in her most teutonic affect over a spartan musical arrangement (courtesy of band composer Manuel Lorenzo). There are no chord changes, no chorus, no bridge, just a monolith of anguish that drone for nearly six minutes, but it is no bludgeon and you will find yourself listening to the song again and again for the feeling of it alone.
If any song on this album can be described as even mildly jaunty, "The Stars Have Fallen and Died" certainly would fit that bill. It boasts more complex instrumentation and an infectious interplay between bass and lead keyboards. This faster pace and less dirge like direction is carried over the next string of songs, culminating with "Rain of Sorrow," probably the coolest sounding retro-wave song this reviewer has heard in a while with shades of early Depeche Mode in the chorus.
The album closes with "Lust Spell" and "Soul Call of a Siren". The former, which served as the bands initial single release, brims with a fatalistic sexual energy, relishing and lamenting in its sinful nature over a beat perfect for zombified dance. The latter, on the other hand, may just be the most diverse track on the album with tribal drum beats supplanting the heretofore drum machine kick laden sound. And while it may not be a stroll in the park on a sunny day, it approaches a sound that almost resembles hope on the horizon.
Tearful Moon is not for everyone, and I doubt that they want that. This is darkwave music for those who love darkwave, no 101 intro course. One of the worst things in the world is bad darkwave…this is far from it.