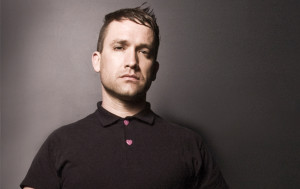 Xiu Xiu is the project of Jamie Stewart and a rotating cast of musicians since 2002. Since 2009 he has had one consistent band member, Angela Seo.
Xiu Xiu is best described as a an avant-garde group. The music ranges from an electronic, upbeat, dance sound to sparse and acoustic, and sometimes, even pop, finding a disparate and consistent thread between melody and cacophony. Regardless of the sound of the music, the gem of Stewart's music is his lyrical content, which is raw, controversial and confrontational. Quite simply, Xiu Xiu is stunning, if not somewhat difficult and without question ultimately transformative.
There is a haiku that was written by a Japanese writer, Tatsuboku, that is said to have inspired Jamie's passion for Xiu Xiu's evolution. "I lie on my back / and look at the clouds / I want to kill someone." The name of the band is taken from a 1998 film called Xiu Xiu: The Sent Down Girl.
Strawberry Tongue Radio is pleased to be featuring the tracks I Luv the Valley Oh from Fabulous Muscles, Stupid in the Dark from Angel Guts:Red Classroom and Hi from Always.
Learn more about Xiu Xiu and keep up to date on latest releases, tour dates and more.
Find more Xiu Xiu on iTunes.