With darkly tinged lyrics and luscious layers of instrumentation, The Agency, is a musical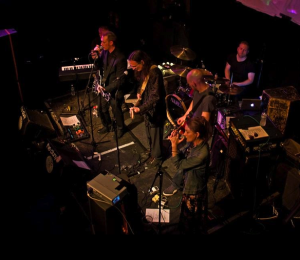 collective with a contemporary combination of folk, goth, country, and rock elements. Originally forming in 2012 as a large group, core members inlcude Steve Beyer (guitar), Garry Cosgrove (drums), Steven K Driver (singer/songwriter/guitar), Andy Ludbrook (bass) and Kerry Ramsay (vocals).
Their sound is developed from the songwriting of Driver, which recalls Velvet Underground, Pink Floyd, Leonard Cohen and Lee Hazelwood. His distinctive vocal style could be easily compared to Nick Cave. Also relying on the occasional cameo of other friends they have cultivated a sound that adds additional layers of guitars, drums, strings, and cello.
Each track on this album is part of a larger theme. The back story goes that Andy Ludbrook released the various members of the Agency, and their associates, from the jailhouse in Gunga Chunga, a little known border town.  Andy had been mayor of Gunga Chunga for three long months when the townsfolk turned on him, at last recognizing his depraved villainy.  Knowing that unless he did something desperate and sinister his days would be numbered, he turned loose what he thought were Gunga Chunga's worst criminals.  He and his posse lost the fight for the town and the band had to take to the road.  Here they discovered that the only way they could make money and feed themselves was through playing their songs of betrayal, wrongdoing and even monsters in any bars, clubs or cafes that would take them.  There are lighter moments in their sets but these are cynically calculated to endear audiences to them despite their darker natures.
 Strawberry Tongue Radio is pleased to be featuring the song "She" from The Agency.
Find more tracks from their debut album "Of Ghosts" on iTunes.