This week's show began from a pretty organic place. We tend to be hoarders at Strawberry Tongue and I stumbled across a collection of CD's from a band that I had not listened to for a number of years by the name of Area. That somersaulted headlong into other indie and dreampop bands, and naturally the sound of postpunk, one of our very favorites.
---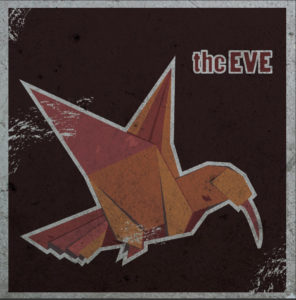 The Eve is an indie postpop band residing in The Netherlands. Originally forming under the name Thoughts Create the World (TCTW), the band changed its name to The Eve in 2009. TCTW formed in 2004 as a project of duo Ronnie (vocals, guitar) and Johan (guitar, vocals, recording). The duo added additional members, Marty (guitar, bass, recording), Ronnie's brother Martin (drums, guitar, vocals), Ferdi (keyboards) and eventually Adriaan (bass) to round out their sound. They spent several years recording material and released their first three albums in very quick succession in 2007.  Each member is involved in numerous other satellite projects and bands, most notably Sippe Sibbele, Girls On Top,  Innerlogic and ManfriendMongol. Their sound ranges from living room acoustics to giant postrock washes of sound. The Eve released their self-titled album in 2012 and to date have several unreleased albums. Tracks featured tonight include "How to make a bird (from a plastic straw)," "Cyclic," and "Headlock."
---
The Foreign Resort is a Danish postpunk trio that has numerous releases over the last five years.  Fronted by Mikkel Jakobsen, whose harrowing vocals perfectly harmonize with his intricate, driving guitar lines, and the powerful ehythym section composed of Steffan Petersen's thrumming bass and Morten Hansen's forceful drumming. Summoning the darkest of The Cure's Pornography-era sounds, they combine new wave and darkwave elements creating an ambiance that can feel foreboding, energetic and darkly sublime. Tracks featured tonight are from their 2015 release The American Dream and include "Skyline Decay," Suburban Depression (AO Mix)," and "Under Bright Neon Stars."
---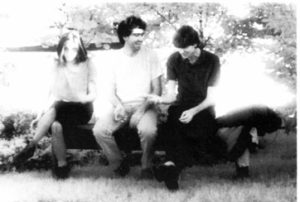 Area was a dreampop band that formed the in mid-80's in Champaign, Illinois. Comprised of Steve Jones, Lynn Canfield (singer) and Henry Frayne, the group recorded five albums, three of which were released on the small, influential C'est La Mort label. Area went on an "extended hiatus" in 1989.  Canfield's sultry vocals lent a warm sparkle to the minimalist synth and guitar arrangements provided by Jones, Frayne and guest artists. Beautiful, sparse, somber and delicate, Area's sound help to usher in the first wave of dreampop bands of the era. Projekt Records released a final album in 1989 which included selected tracks from past albums and a handful of material that had not been previously released. After disbanding, Canfield and Frayne formed Moon Seven Times, recording three albums before disbanding in the late 90's. Canfield has gone on to form two other projects Shotgun Wedding and Lynn Canfield & Hot Tub Party, Frayne formed Lanterna and Jones went on to form The Arms of Someone New. According to the Area website, there was promise of a new album in the early 2000's, which was never released. Tracks featured tonight include "Thick as Thieves," "With Louise," and "Sincerely Charlotte."
---
The Wolfhounds are a band that formed as teenagers in 1984, releasing four critically acclaimed LPs before initially disbanding in 1990. In that short time, they were one of the bands featured on the legendary C86 cassette, which influenced later bands of the shoegaze, indie and garage-rock revivals. The band reformed in 2006 to celebrate 20 years since the release of C86, and have been recording and releasing new material since 2012 . They recently released their album "Untied Kingdom or How to Come To Terms With Your Culture," an eleven track blistering indie rock album with dynamic guitar hooks, frenetic drumming and caustic lyrical commentary of the state of the world. Their sound is as sonically powerful today as it was thirty years ago, but, flavored with a the wit and discerning wisdom that comes with age. Current members include David Callahan (vocals, guitar, samples, keyboards). Andy Golding (guitar, vocals, samples, keyboards, bulbul tarang) Richard Golding (bass) and Pete Wilkins(drums.) Tracks featured tonight include "Stupid Poor," "Everyday Monsters" and "Across the River of Death."
---
Hermetrik is a four piece band from Muenster, Germany that fuses indie-rock, pop, and new wave to create a thoroughly modern approach to postpunk. Combining catchy and clear guitar hooks, effected vocals, percolating synths, driving bass lines and calculating drum rhythms, they walk a delicate balance between noise and silence, their sound is energetic, commanding and explosive. Danceable, dark and delicious, they recently released their  EP "Light" and we are featuring three tracks tonight "No Need For It," "Trouble," and "Lights Flashing."
---
That's it for this week's edition of the Friday Night Five. Be sure to tune in to Strawberry Tongue Radio at 19:00, 21:00 and 23:00 EDT to hear selected tracks from each of these bands and be sure to visit their websites for more information about their latest work and to purchase their tracks. Also, be sure to listen to Strawberry Tongue Radio to hear our unique playlist featuring current and classic artists playing post punk, new wave, indie, electronic and experimental music.