Review: An Evening with Kristen Hersh
.
Kristen Hersh is a prolific guitarist, singer, and songwriter, that has been at the forefront of the indie and alternative music scenes for over three decades. Her first band, Throwing Muses, formed when she was a teen. They helped to pave new roads for female-fronted rock groups in the eighties. Since then, her projects include her exquisite solo work and sprawling math-rock material with 50FootWave. She has ferociously defied the recording industry, consistently releasing material that is unyielding to pop music expectations.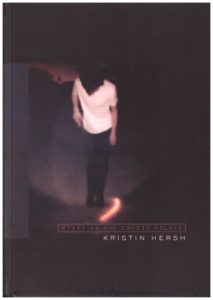 Wyatt at the Coyote Palace
Hersh recently released a book of stories, poems, photos, and artwork paired with two CD's of music. Entitled "Wyatt at the Coyote Palace," the release is named after her autistic son Wyatt's unusual pass time while accompanying her at the recording studio. Wyatt frequently visited an abandoned apartment behind the studio that had been re-inhabited by coyotes. The album has an unwavering voice of self-awareness, poignancy, and frequently, humor. Between the two CD's, there are twenty-four songs in all. Lyrics for each of these songs are printed in the book, interspersed with real-life stories, and artwork. Hersh says the stories, experienced over many years, were written on napkins and other bits of scrap paper. The stories that accompany the book are rich with honest introspection, giving unique depth to each song. The music is described by Hersh as life stories that have been wanting to be made into songs.
Her songs and vocals shift and change chords seamlessly, and discordantly, similar to how the wind blows through leaves of a tree. Taking different directions there is always a beautiful flow that weaves throughout her work. Her decision to release new music in a book is the value she places on the book as a symbolic gesture of receiving a gift.
"A book is still a valuable object, whereas a CD really isn't. We all know they're just little pieces of plastic. Plus, if you hand someone music you like and ask them to adopt it as their soundtrack, it's a little like asking them to switch over to your religion. Handing someone a book, on the other hand, is giving them a gift. So I snuck a couple CD's into this book, secretly hoping people will switch over to my religion."
Kristen Hersh at the Cedar Cultural Center – December 9, 2016
She is a tiny dynamo. Deceptively, her petite frame disguises the enormous fire and fury that rips from her soul. In the stripped down setting of the Cedar Cultural Center, she appears only with her guitar, book, microphone and chair. Engaging the audience, her performance is powerfully subdued, filled with warmth, honesty, and wisdom. This evening she focused on a blend of new and old material interspersed between short readings from her book.
Hersh's approach to her songwriting and performance is exquisitely uncompromising, raw and fierce. In between songs she jokes with the audience. Hersh tells stories about friends warning her to "not play any new material" because "people hate new material," relates the anecdote for the "hooker gazpacho" recipe, and when an audience members whoops as she begins to play a fan favorite, she slyly announces she is going to "count their 'woo's.'" Coming in a little short of an 80-minute performance, Hersh delivers an honest, charming, and unadulterated presentation of her latest material, which is intrinsically tied to her own life. This is exactly the kind of performance we have come to expect from a woman who has managed to eschew mainstream music standards for decades.
Tracks performed at the evenings performance included:
Bright (Wyatt at Coyote Palace)
City of the Dead (The Shady Circle)
Mississippi Kite (Crooked)
Static (Crooked)
Your Ghost (Hips and Makers)
Your Dirty Answer (Sunny Border Blues)
Krait (Crooked)
Snocat (The Grotto)
Sugarbaby (Learn to Sing Like a Star)
Sunray Venus (Throwing Muses – Purgatory/Paradise)
Poor Wayfaring Stranger (Cats and Mice)
Flooding (Cracked)
Between Piety and Desire (Spark Meet Gasoline, Wyatt at Coyote Palace)
Cottonmouth (Throwing Muses – The Curse)
Cuckoo (Hips and Makers)