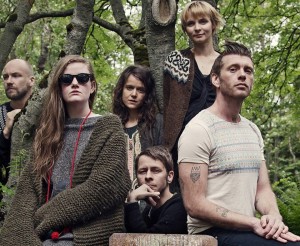 Múm is a band hailing from the wild tundra of Iceland, a country filled with the dichotomy with fiery volcanoes and frigid glacial landscapes. This barren landscape, without a doubt, strongly influences the work of its artists. The musical style of Múm is best described as electronica, but ranges from dreampop, trip hop, experimental and folktronic. It's both mellow and exhilarating, leaving the listener to breathlessly await each track with anticipation.
Since their inception in 1997, they have had a large ensemble of musicians involved, with Gunnar Örn Tynes and Örvar Þóreyjarson Smárason being the two constant members. Other members, past and present include; Róbert Reynisson, Hildur Guðnadóttir, mr.Silla, Ólöf Arnalds, Eiríkur Orri Olafsson, Sigurlaug Gisladottir, Samuli Kosminen, Róbert Sturla Reynisson and sisters Gyða and Kristín Anna Valtýsdóttir. 
They have released six full-length EPs, a number of singles and have been featured on numerous compilations. Smilewound is their most recent EP, released in 2013. With each album they have added new elements to their sound. The early songs tendriled into experimental sounds and lush ambiet soundscapes striking a chord somewhere between post-rock and ambient. In later releases, layers of hushed, delicate vocals, strings, stronger electronic influences and rich melodies have added new dimensions to their refreshing and unique approach to electronica.
Strawberry Tongue Radio is pleased to be featuring the tracks Nightly Cares from Summer Make Good and Toothwheels from Smilewound.
Pick up Múm on iTunes.
Learn more about this stunning Icelandic group at their official website.