God Damn The Sun | Total Solar Eclipse Mix | August 21, 2017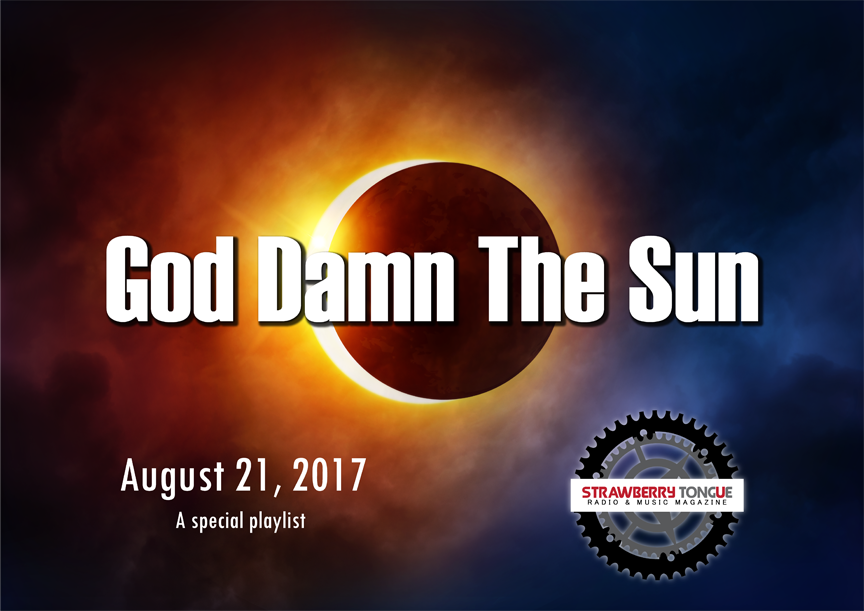 I was a young kid the last time we experienced a total eclipse of the sun. Sitting in my Catholic school classroom, I remember the nuns telling us this once a once-in-a-lifetime event. Naturally, since we didn't have viewing glasses, they half-lowered the shades and only allowed us to peer out for the fleeting moments when the sun was completely hidden behind the moon. I'm a few years older now, and the beauty of being a goddamn adult, is that I can control my own sun viewing habits.
Since this is a once-in-a-lifetime (or maybe twice!), this is a special playlist that brings together our favorite tracks that celebrate the sun, the moon, and the sky. Entitled after The Swans song by the same name, you will find a variety of artists in the post-punk, new wave, electronic, experimental, psychedelic, glam rock, and indie rock artists that we love on Strawberry Tongue.
Starting at 9:00am CDT and playing until 3:30pm, this is a playlist that perfectly accompanies the sky going out.
Artists featured include:
50 Foot Wave
After Death Plan
After The Flood
Alien Sex Fiend
Almark
And Also The Trees
Bat For Lashes
Battles
Bauhaus
Black Arcade
Black Lab
Bleib Moderne
Blue Orchids
Born Gold
Calla
Candy Claws
Captain Beefheart
Chrome
Cindytalk
Cold Cave
Comsat Angels
Cut Copy
Dalek I
Dead Can Dance
Dead Skeletons
Echo Arcadia
Eyeless in Gaza
Feeding Fingers
Formes Nouvelles
John Cage
Junior Boys
Little Nemo
Loop
Love and Rockets
Lunar Twin
Lush
Lusine
Killing Joke
Mark Nine
Moi Caprice
Modern English
Moonbabies
Music For Pleasure
New Order
Nick Drake
On The Water
Otzi
Phoenix
Pilot Scott Tracy
Red Temple Spirits
Reptar
Sad Lovers And Giants
Shellac
Slowdive
Solvent
Sort Sol
Stella In The Clouds
Swallow
The Chameleons
The Cravats
The Horrors
The Intelligence Service
The Naked and The Famous
The Suncharms
The The
T-Rex
Troubled Gardens
TV On The Radio
Velvet Underground
Voderhaus
VvvV
We Draw A
Wire
Xiu Xiu