Friday Night Five – December 30, 2016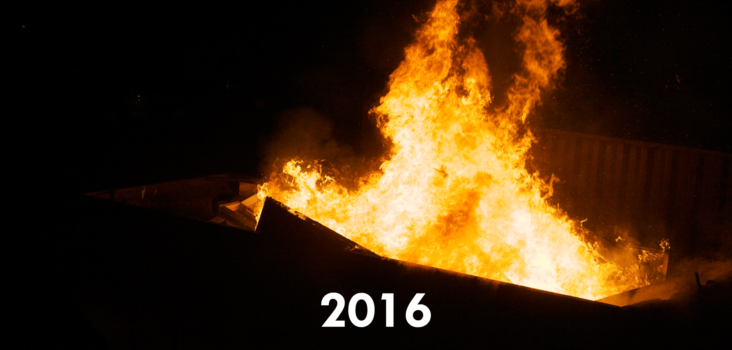 Tonight's playlist will be a long and winding road. I will be featuring one track from each of the artists that I showcased on the website in 2016. Since we highlight both modern and classic artists, a true "best of 2016 list" is a bit of a misnomer. There may be older tracks on the playlist – however they were featured this year. So, this evening, each track is a favorite on Strawberry Tongue. There's about 175 in total, however, the list below is a non-ordered Top 100 songs for the year. Highly scientific, this list is based on listening times, fan favorites, and unabashedly, the always wild card of Dawn Marie's personal pets. I have to thank all the bands, fans, and freaks that reached out to me this year and their unwavering support of this crazy little thing called love. Each of them truly brought light for what turned out to be the ultimate dumpster-fire of a year.
Breaking from our usual format, tonight's playlist begins at 7:00pm EST / 1:00am CET and runs for a whopping 12 hours! It will repeat again both Saturday and Sunday at the same time. Put on your party pants people, it's gonna be a long night, but worth every bit of your time. So sit back and enjoy the ride. Happy New Year!
BEST OF 2016 (in no particular order)
50 Foot Wave – Bath White
Adryelle – Black Chandelier (Mix)
Anoraque – Think Don't Suppose
Antipole – Deco Blue
Audiodeluxe – Treasure
Autolux – Change My Head
Battery Operated Orchestra (BOO) – Diamond Feelings
Benji 24 – Sea Glass
Black Swan Lane – Relax and Breathe
Book of Giants – Endeavor
Castlebeat – Downstairs
Castle Black – Premonition
Charles De Goal – L'armes a Gauche
Chelsey and the Noise – Edge of Infinity
Children of Leir – Shades
Christine Plays Viola – Poles Apart
Controlled Collapse – Ruins (Mental)
Crispy Ambulance – Four Line Whip
David Bowie – Girl Loves Me
Dead or Alive – Flowers
Dearly Bereft – Laura Palmer
Dear Deer – Statement
Downhill Willows – Trauma
Elwell – Closer
Emilie Zoe – My Shadow on the Wall
Feeding Fingers – Your Candied Laughter Crawls
Folk Devils – Beautiful Monsters
Ghost Noise – Throne of the Third Heaven
Ghost of Lightning – All Is Fair In Dreams
Gloss – Rachel
Goldbarne – The Lure
Graveyard Club – Nightcrawler
Guns of the Seneca – Oneironaut
Hande – Δ
Hermetrik – No Need For It
Hologram Teen – Scratches in Series
Honey Beard – Hummingbirds
I Tpame I Tvrame – Dizzy
Idle Vision – Guys and Girls
Introflirt – Precious Thread
Ipanema Cosmonauts – Black Helicopters
Jherek Bischoff – Closer to Closure
Joao Bispo – Querer-te
Kaamosmasennus – M.A.P.
Kleenex/Liliput – Nightoad
Lake Ruth – Cabin Fever
L'arbre Bizarre – Opaque Mirror
Levy – City of Love
Lilies on Mars – Stealing
Liyv – Heat
Magic Mountain – Velvet
Meheekats – I'm So Lucky
Map of the Moon – Give You Something
Maths and the Moon – Futurist
MnttaB – Un Siege Sur Le Blanc
Neurotic Wreck – Speak in My Voice
New Age Healers – Ready Aim Fire
Nick Cave and the Bad Seeds – Girl in Amber
Nova Et Vetera – Looking for a Sign
Odonis Odonis – Needs
Onemanstanding – Soul Sepsis
Ophiuco – Scrowls of Intentiones
Paisaje 3 – Fire Bird
Rakta – A Violencia do Silencio
Roya – Centrum
Ryan Evans – Everything was Broken
Schillaci Death Stare – Hotbox Shed Blues
Schwarz – Intronaut
Shadows and Mirrors – In The Dark
Sjoblom – Oh My Heart
Sky Between Leaves – Klein Blues
Soft Ledges – Seven Stories
Solemn Shapes – Need
Sorority – Satisfied
Starfinder – In The Dark
Surface Hoar – Luminous Beings
Tapes and Tubes – So Long As I Have You
The Dearly Bereft – Laura Palmer
The Doctors – Unterwelt
The Foreign Resort – Suburban Depression (AO Mix)
The Intelligence Service – School Me
The Raudive – Torch Song
The Suncharms – Spaceship
The Wolfhounds – Across the River of Death
Them Are Us Too – Creepy Love
TheUse – On My Deathbed (Featuring Rachel Mason)
This Human Condition – Rise (Earth is Full Mix)
TK Bollinger and That Sinking Feeling – I Hear Monsters Weeping
Tobacco – Human Om
Touch – M.O.B.
Traitrs – Burnt Offerings
Undertheskin – Wave
Verena Von Horsen – Sakrament Der Buffelherde
Verna Hark – Kingdom
Vissuda – The Day You Were
Vorderhaus – Black Suspicion
VvvV – Clean
We Draw A – Tomorrow
Winter 1982 – Sometimes
Year of the Kite – Beauty Gone
---
That's it for this week's special edition of the Friday Night Five. Be sure to tune in to Strawberry Tongue Radio at 19:00 EST / 1:00 CET to hear our "best of" 12-hour playlist. It will also re-air on Saturday and Sunday at the same times. Join us on January 6th for our first new playlist of 2017.  As always, be sure to visit the bands websites for more information about their latest work and to purchase their tracks.
Listen to Strawberry Tongue Radio to hear our unique playlist featuring current and classic artists playing post punk, new wave, indie, electronic and experimental music.