Friday Night Five – April 7, 2017
This week's Friday Night Five features a variety of bands from Around the globe. Featuring post-punk, minimal synth, darkwave and synthpop, our lineup is breathtaking and sublime. Check out this week's featured artists only on Friday Night Five.
Razorline is a post-punk, solo project from Nico, who resides in Italy. After a number of years of making electronic music and working as a sound designer for art galleries, theater, and fashion shows, he needed to get back to his roots and first passion, guitars. His self-titled debut release has been released as a free-to-download album from Manic Depression's Bandcamp site. While never fully straying away from electronics, this album blends the angular guitars, and detached resonance of classic post-punk with elements of industrial electronic. Tracks featured tonight include "Overtime," "Skinsex," and "The Box."
---
Inhalt, the German word for "content," is also dark electronic / minimal synth music based in San Francisco.  Combining hard-driving beats propelled by German vocals, their overall sound is sleek, chic, cold and formidable. The trio, consisting of Philip Winiger, Matia Simovich, and Steven Campodonico formed in 2009 and has released a handful of albums. On April 14, they will be releasing their latest release "Part Time Punks" on the Cleopatra label. Tracks featured tonight come from that release and include their first single "Walking on Glass," and two deep cuts including "Occupations," and "Programming."
---

Honey Beard is an synthpop duo from Toronto that blends uptempo rhythms and dark pop. Balancing dark synths and crooning vocals with bright, thumping beats, their sound is infectious, melancholy and magical. They released their debut EP in 2015 and on April 29th they will be releasing their first full-length album, "Dreamless Sleep."  Tracks featured tonight are from this new release including "Momento Mori," "Robot Heart," and "Through the Dance Floor."
---
Dyr Faser began as a solo project and has expanded and contracted over time.  Multi-instrumentalist Eric Boomhower (vocals, guitar, synth, Casio) began writing tracks and has included a number of other musicians including Thalia Zedek (Live Skull, Come), Kate Murray, and more recently, Amelia Emmet to round out his sound. Combining elements of post-punk, psychedelia and electronics, Dyr Fraser's sound is dark, haunting and addictive. Tracks featured tonight are from their 2016 release "Trio" and include "Den of Sables," "Don't," and "Hybrid Souls."
---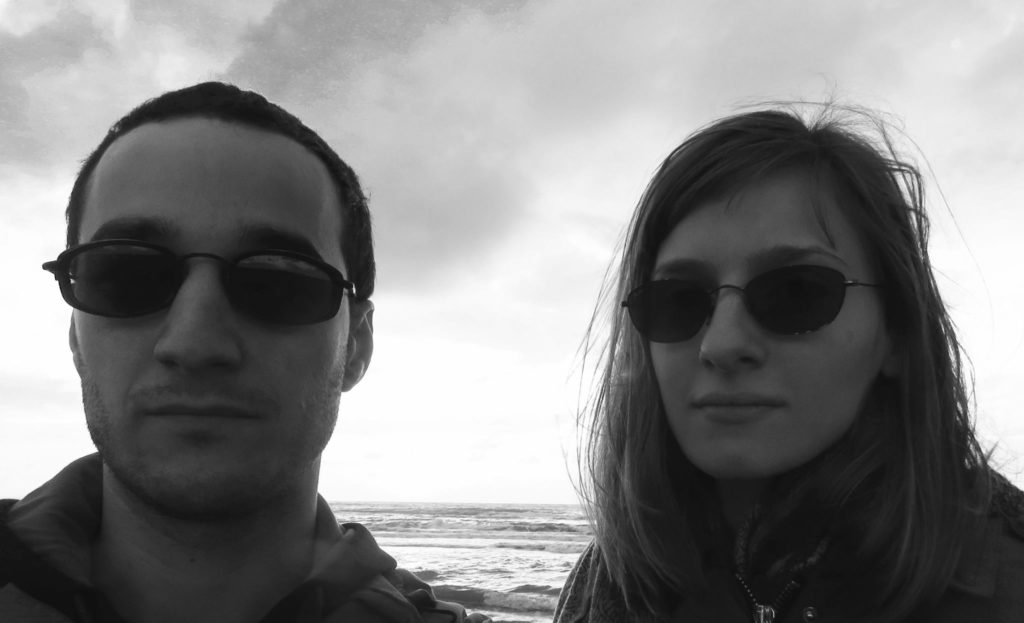 I Tpame I Tvrame is a stunning duo from Albania. Combining sequences of drums, synths, growling guitars and obscured vocals, Dina Hajrullahu & Franc Kurti create intriguing coldwave tracks. It's been about a year since they first got on our radar here at Strawberry Tongue and they have since released one breathtaking single after another. Relying on electronics, reverb, and swirling somber tones, the duo drags you into dark and otherworldly spaces. They recently released their first full-length album, "Future Attitude." Tracks tonight include title track "Future Attitude," "Satori," and "Distress."
---
Bonus tracks this week include:
The female-powered trio The Baby Seals and their punchy, punky track "Guuurrrrll."
The first single off indie rocker Dulio's debut release entitled "Nostalgia Web."
The psychedelic, schizophrenic, freak-out track "Ouija" from Brooklyn-based Dream Drunk.
---
That's it for this week's edition of the Friday Night Five. Be sure to tune in to Strawberry Tongue Radio at 19:00, 21:00 and 23:00 EDT to hear selected tracks from each of these bands and be sure to visit their websites for more information about their latest work and to purchase their tracks. Friday Night Five also re-airs on Saturday and Sundays at 1:00/3:00/5:00/19:00/21:00/23:00 EST/EDT.
Be sure to listen to Strawberry Tongue Radio to hear our unique playlist featuring current and classic artists playing post punk, new wave, indie, electronic and experimental music.