Friday Night Five – December 2, 2016
As you know with everything Strawberry Tongue, I am a huge fan of music from all over the globe. This week is no exception to the rule. Featuring classic and contemporary bands from France, Spain, Kazakhstan and Russia, there is, as always, a definite international flair.
---
Christine Plays Viola dark and seething, is a darkwave group out of Pratola Peligna, Italy. Forming in 2008, members Massimo Ciampani, Fabrizio Giampietro, Daniele Palombizio, Desio Presutti, Daniele Vergni, have been playing a blend of new wave, goth and post-punk. Their sinister, driving and swirling songs are inspired by stories of people at the moment of death, unique traumas that people have suffered, and the evil, fear, obsession, and demons that surround these moments. This is some seriously dark stuff and yet it feels open and shimmering between the moments of gloom. They released their third album, Spooky Obsessions, in September on the Manic Depression label. Tracks featured tonight include "Obsessione," "Nefarious," and "Poles Apart."
---
Perralobo is a post-punk band that group heralding from Valencia, Spain. Their name translates in English to "female wolf" or "wolf bitch." Sung entirely in Spanish, their music is dark, angular and badass. Combining elements of new wave and punk, Stella's voice is remarkably raw, powerful and detached over a driving rhythm section comprised of Metal's bass and Toni's drums. Carre's sweeping synths pull together the blistering angular guitars of Olaf creating an album filled with attitude and fire. They released their album Grita cuando te quemes (roughly translated to Scream When You Burn) in June of 2016 on Bandcamp. Tracks featured tonight include "Dos Grados (Two Degrees)," "Intuición animal  (Animal Intuition)," and "Nichts ist für immer (Nothing is Forever)."
---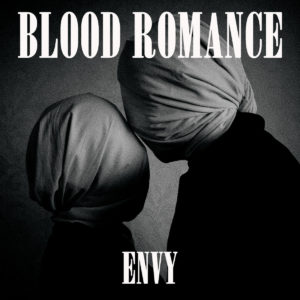 Blood Romance is a dark pop duo heralding from the central Asian country of Kazakhstan. This emerging project juxtaposes sweetly delicate male and female vocals against melodic, echoey, effected guitars, washing synth and drum tracks. With influences such as pop, post-punk and r&b, Lana and Rustam, began collaborating in 2015 and recently released their debut EP "Envy" on Russian label Nikitin Music Group. In 2017 the duo plans to release a new single each month. we planning to be single-oriented and release a new single every month that you will be able to find on the duos Bandcamp page. Tracks featured tonight include "Love and Hate," "Don't Ask Me Why," and "I'll Be Fine."
---
Ipanema Cosmonauts create gorgeously luscious dreampop from the town of Saransk, Russia. Incorporating influences such as jazz, shoegaze,  and post-rock they create an effortless and breathtaking pop melodies. Spacious, ambient guitar and soaring vocals create composed, sparkling and textural tones. Duo Serge and Alice have recently released their debut EP,  Adrift, on Diversion Records. Tracks featured tonight include the single "Kites", "Black Helicopters" and "Washed."
---
Little Nemo is my classic pick of the week. A French coldwave group that formed in 1983, the band was at the forefront of what was known as the "Touching Pop" movement along with contemporaries Asylum Party and Mary Goes Round. "Touching Pop" was a loosely formed genre of French coldwave and new wave bands that erred more on the side of pop than rock, with an affectation melody and somber sounds. A project that started between duo Olivier Champeau (vocals, keyboards) and Vincent Le Gallo (vocals, guitar, bass), they released their first material in 86 – 88 on cassette labels Karnage Grafik, Artefakt, and Lively Art . Eventually, they added Nicolas Dufaure (bass, guitar, vocals) to the lineup, and further elisted the help of Yves Charreire (drums), Ronan Le Sergent (keyboards, piano, organ) and Georges Remiet (guitar) for live perfomances. They released five albums before breaking up in 1992, eventually reforming in 2008 and releasing the album, Out of the Blue in 2013. Tracks featured tonight are from some of their earliest releases including "Future is Now," "Empty House," and "Cadavres Exquis."
---
That's it for this week's edition of the Friday Night Five. Be sure to tune in to Strawberry Tongue Radio at 19:00, 21:00 and 23:00 EDT to hear selected tracks from each of these bands and be sure to visit their websites for more information about their latest work and to purchase their tracks. Also, be sure to listen to Strawberry Tongue Radio to hear our unique playlist featuring current and classic artists playing post punk, new wave, indie, electronic and experimental music.