Friday Night Five – November 25, 2016
It is Black Friday here in the U.S., the day after Thanksgiving, and it's a mixed bag. It's the official kick-off to the holiday shopping season, and somewhat of a national sport. Americans spend Thanksgiving being grateful for all of our abundance, only to spend Black Friday fighting with other shoppers over stuff we think we need to possess. I'm not much of a shopper, mostly because that would require me to engage in activities with other humans, so, my gift you to, gentle reader, is the gift of new music. Music that is reflective of both the dark and aggressive nature of Black Friday. Écoutez motherfuckers.
---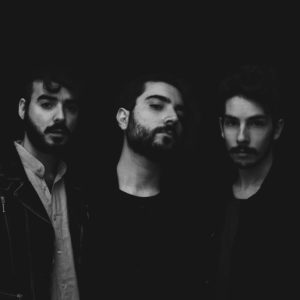 The Black Veils formed in 2014 as a collaboration between Gregor Samsa (vocals), Filippo Scalzo (bass) and Mario "Dada" D'Anelli (guitar, synth, drum machine). Playing a blend of post-punk and shoegaze, they draw on a dark and surreal imaginary, combining enigmatic lyrics with melodic evocative atmospheres. Creating massive walls of sound with echo and reverb, their relenting percussion lays a backdrop for their angular, stabbing guitar and bass, howling synths and hymnal vocals. Their first LP, Blossom, was released in October 2015 where tonight's featured tracks can be found including "Claws on the Corn," "Blossom," and "Army of Illusion." Look for their new release in January 2017.
---
Nova Et Vetera started as a trio in the late 90's bridging a gap somewhere between gothic rock, tribal percussion, and performance art. Wanting to create music and a live performance that they would want to see, the group relies heavily on macabre lyrics, pounding ceremonial percussion and angular guitars to create a a musical experience that is felt as much as it is heard. The group has evolved since its early inception and now includes Mrlamort (Wily) on guitar and vocals, Herrich Le Grand (Eric) on bass and vocals, Miss lamort (Carmen) sings and plays percussion,  and C-real (Cyril) plays drums. Their sound is menacing, ritualistic and bleak. They recently released their album Lightnings on Manic Depression Records. Tracks featured include "Hit by Lightning," Travel Light," and "Looking for a Sign."
---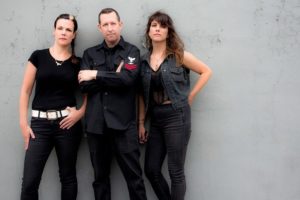 Castle Black is a Brooklyn-based rock trio, playing a blistering blend of punk, grunge, post-punk and alternative. With powerful percussion and the ferocity of The Runaways, their sound is downright infectious, rocking, and no holds barred. Comprised of Leigh Celent (guitar/vocals), Lisa Low (bass/vocals) and Matt Bronner (drums), the trio has been tearing up New York City since 2014. The trio released their first EP, Find You There, in August 2015, with a follow-up single, Dark Light: A Plague Revisited, released in May 2016. Their second EP, Losing Forever was released October 2016. Tracks featured tonight are from the Losing Forever EP and include "Secret Hideaway," "Premonition" and "Sabotage."
---
This Human Condition is an electronic duo from Bristol comprised of Jamie Jamal & Mister Minchie. Forming in January of 2015, the pair blend a variety of styles including  experimental, synthpop, trip hop, and dance beats to create a unique blend they dub Electronic Handbag Punk. Citing disparate sources of inspiration such as Foals, Alt-J, Everything Everything, Grace Jones,
Kate Bush, David Bowie, Prince and Peaches, they create sounds that are dance-able, dark and seriously delirious. They are currently on the New York digital label Teknofonic. They have been described as early Depeche Mode meets a darker Erasure. Tracks featured tonight include "Rise (Earth is Full Mix)," "Psychotropic," and "Telepathic Heights."
---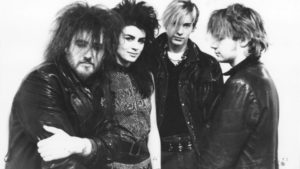 The March Violets formed towards the end of 1981 and were described as a "rock band with a dark side." Hailing from Leeds, they played alongside contemporaries of Sister of Mercy and Red Lorry, Yellow Lorry. Using primitive drum beats and bass to create a menacing rhythmic beat, they released their first full album, Natural History in 1984, cementing their place in the newly burgeoning "goth" sound of the era. The album, compiled from Peel sessions and singles, the group had several hits on the indie charts before their demise in the mid-80's. Originally comprised of  the contrasting vocals of Simon Denbigh and Rosie Garland,  with Tom Ashton (guitar) and Laurence Elliot (bass), the band has a messy past, with members leaving and joining the group until finally breaking up in the mid-80's. In 2007, a one-off reunion gig with three of four original members Denbigh, Garland and Ashton, resulted in two more albums, Made Glorious in 2010 and Mortality in 2013. Tracks featured tonight include some of their earliest singles including "Snake Dance," "Walk into the Sun," and my favorite from their first EP "Religious as Hell." As a side note, earlier this year, Denbigh suffered a stroke and a benefit in his honor will be held on November 27th. Check out the Facebook event for times and ways to donate.
---
That's it for this week's edition of the Friday Night Five. Be sure to tune in to Strawberry Tongue Radio at 19:00, 21:00 and 23:00 EDT to hear selected tracks from each of these bands and be sure to visit their websites for more information about their latest work and to purchase their tracks. Also, be sure to listen to Strawberry Tongue Radio to hear our unique playlist featuring current and classic artists playing post punk, new wave, indie, electronic and experimental music.