Friday Night Five – November 11, 2016
This week has been a particularly challenging week. No matter where you stand on the political spectrum, all sides have been affected by the recent contentious election in the United States. Almost always for me, music is the best panacea. It allows me to step back, dive into another world and spend some time reflecting. Oddly enough after I assembled the tracks I was going to feature tonight, I realized that 80% of the bands I am showcasing released their first album before 1982. I guess, some people have comfort food, I have comfort music.
---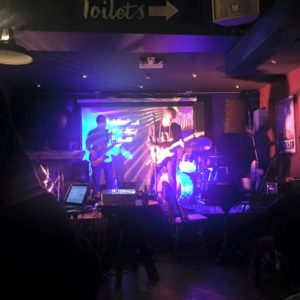 Crispy Ambulance is one of my very favorite post-punk bands. Emerging out of the punk scene in Manchester in 1977 they released several albums under the Factory, Aural Assault and Factory Benelux labels. Developing a distinctive style that was forceful, tenebrous, and incomparable, the group intitally disbanded in 1982. Going on to other projects, they released a four-single EP under the name Ram Ram Kino in 1985 and parted ways again. After almost seventeen years, the group reformed in 1999 for a one-off gig to promote an re-issue of their stellar album The Plateau Phase. Since then, the band have played one off gigs, curated multimedia events and in 2016, released their first studio album since 1985. A two-CD set, the first CD entitled Compulsion, which was originally issued in a limited edition of 500 vinyl copies to mark Record Store Day in 2015. Written around the time of The Plateau Phase, seven of the ten tracks were written and performed live at the time, the additional tracks are out-takes and remixes. The second CD, Random Textures, consists of new instrumental material that was written by the band for a series of multi-media events in Manchester during 2015/16 and billed as the Subliminal Impulse Review. It's got a washing soundtrack feel, throaty synths, powerful percussion and effected guitars. It's a definite departure from their early work, but, nonetheless stunning, profound and richly layered. Tracks featured tonight include "Integra," "Allegro," and "Four Line Whip (Remix)."
---
Black Swan Lane is an indie-rock group that was founded in 2007 by Jack Sobel and John Kolbeck of The Messengers, and Mark Burgess (The Chameleon UK and the Sun and the Moon) along with contributions by other artists such as Andy Clegg, Andy Whitaker, Kwasi Asante, Yves Altana  and Achim Faerber. Their music is fill with tender, melancholy, bittersweet and somber tunes. Drawing a line somewhere between shoegaze, dreampop, and post-punk, the sound is minimalist, authentic and luscious. This is music that is a perfectly soothing for an aching heart. Tracks featured tonight include "Dead," "Home," and "Relax and Breathe."
---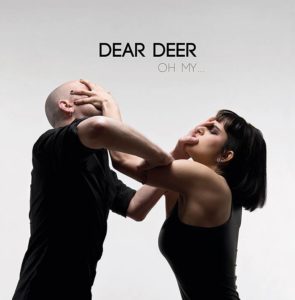 Dear Deer is an electronic duo from France that plays a smoking hot, visceral combination of post-punk, industrial and nowave. Cacophonic, gurgling synths are layered under dissonant vocals, angular percussion and reverbed guitars. It's challenging, abrasive, gritty, and totally cathartic listening. Comprised of Federico Iovino (Popoi Sdioh) and Sabatel (Cheshire Cat), they formed in 2015 and released their debut album on Manic Depression records in October. Combing the intensity of Alien Sex Fiend with the cool detachment of Adult, Dear Deer's utterly nihilistic sound is the perfect accompaniment to bitter times. Tracks featured tonight include "Statement," "Dear Deer," and "Arnolfini."
Facebook
Manic Depression
Bandcamp
---
Modern English is a band that has such a breathtaking back catalog and yet, they are mostly known for one single, "I Melt With You," a fairly apocalyptic song about a couple having sex as a nuclear bombs fall around them. What is now somewhat of a new wave confection, much of their early material is darkly tinged, and not as pop-accessible, but, in Strawberry Tongue's opinion, some of the tastiest morsels to be devoured.  Their history is scattered. Releasing albums on the seminal 4AD label, then on Sire, breaking up, reforming with various members, and releasing new material on TVT, and breaking up again. The band has mostly consisted of Robbie Grey with various incarnations of three original members including Gary McDowell, Michael Conroy and Stephen Walker. The band reunited in 2010 and has been touring ever since. This year, they recorded new material with the help of crowdfunding via Pledgemusic and released the MP3s this past summer. The new material has a chill vibe, more indiepop than new wave, more dreampop than post-punk, the songs are melodic, with groovy ringing guitars and sparkling synths. Tracks featured tonight from the new album "Take Me To The Trees" include the Bowie Hero-esque track "Trees," the Mesh and Lace sounding "Dark Cloud," and "It Don't Seem Right."
---
Ski Patrol was a band that in its short lifespan of two years achieved a devoted following around their unique sound. Comprised of singer and poet extraordinaire Ian Lowery, and guitarist Nick Clift, the duo recruited several other musicians to help round out their explosive squad. Pairing dub reggae, funk-inflected bass, angular guitars,  and Lowery's witty, paranoid gutter poetry and wild stage antics, they caught the attention of a newly formed label and management company called Malicious Damage, who also released the early work of Killing Joke. Soon after, they also caught the attention of the legendary John Peel, who invited them to play a studio session. The group only recorded three singles, in addition to the Peel session. Lowrey and Clift went on to form Folk Devils. After Folk Devils folded, Lowrey would continue on in two projects, King Blank and Ian Lowrey Group with Nigel Pulsford (Bush), while Clift went on to work for Rough Trade and Astralwerks. In 2014, 13 years after the untimely death of Lowrey, Clift released a retrospective of all the material of Ski Patrol included band's first two singles, previously unreleased mixes of their third single and three unreleased songs from their last studio session. Tracks featured tonight are from that release and include "Agent Orange," "Concrete Eternal," and "Extinguish (Dub Mix)."
---
Devastatingly, we lost another beloved artist this week. Leonard Cohen passed away at the age of 82. A prolific and profound songwriter, he has been cited by thousands and thousands of artists as a source of inspiration. It is only befitting that we feature a Leonard Cohen cover from some of our favorite bands we play on Strawberry Tongue. Tonight each playlist will featured a track from either Schonwald – "Who by Fire," The Flying Lizards – "Susanne," or Nick Cave and the Bad Seeds "Avalanche."
---
That's it for this week's edition of the Friday Night Five. Be sure to tune in to Strawberry Tongue Radio at 19:00, 21:00 and 23:00 EDT to hear selected tracks from each of these bands and be sure to visit their websites for more information about their latest work and to purchase their tracks. Also, be sure to listen to Strawberry Tongue Radio to hear our unique playlist featuring current and classic artists playing post punk, new wave, indie, electronic and experimental music.