Friday Night Five – October 21, 2016
Holy hell, friends. The last twenty four hours has been one heinous technology issue after another, so this show feels very hurried and disjointed for even me. But, I guess, that might be how every show sounds since I am not too tied to any one genre. This week I am featuring lo-fi doomblues, glitchy synthwave, folk rock and classic postpunk. Sounds like just another Friday at Strawberry Tongue.
---
TK Bollinger and That Sinking Feeling is a project I stumbled across on Twitter. I don't claim to be very opaque in my music listening choices. When someone lists "doom" as a part of their music genre, I'm all in. What immediately struck me was the stark beauty of these finely crafted songs. Fronted by prolific Australian singer/songwriter, TK Bollinger, each track relies heavily on brooding, somber prose, sparse, sleazy guitars and cadenced percussive arrangements.  There is a gorgeous space between the notes that builds delicate layers creating a subtle, tempered force to these lo-fi, somber, blues-inspired songs. Straddling a line between goth, country, and blues, this music is stunningly sad and eloquently elegiacal. Tracks featured tonight include "I Hear Monsters Weeping," "That What Does Not Kill Me Gives Me Cancer," and "All Seems Lost."
---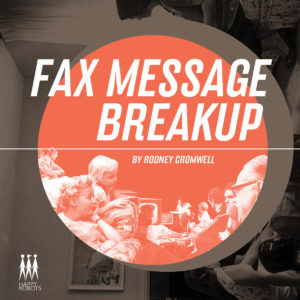 Rodney Cromwell is the moniker of Adam Cresswell, founding member of indie-folktronica band Saloon and one half of acclaimed electronic two-piece Arthur and Martha. Creating music on vintage synths, children's toys and low-range guitars, his breakout album Age of Anxiety in 2015 made many "best of" lists for the year. On November 11, Cresswell will release an EP of special remixes from Age of Anxiety. Featured remixes of "Fax Machine Breakup," a song inspired by the infamous Phil Collins split with his second wife and two other tracks are included on this EP. Tracks featured tonight include two of those remixes of "Fax Machine Breakup"  one by ex-Stereolab Morgan Lhote who provides her glitchy, electro disco sound, and the other by frequent contributor AUW who weaves a glamourous, darkwave sound. Meanwhile, the London-based group The Leaf Library gives a spacious and delicate makeover to "Cassiopeia."
---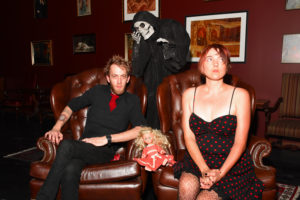 Soft Ledges is  indie rock/noise folk band from Chicago, Illinois. Forming in 2015, Shelley Miller (guitar/keys/vox + drums) and Chris Geisler (bass + drums/guitar) create beautifully dark, angular tunes about death and survival. Citing influences such as Vic Chesnutt, PJ Harvey and Low, they create powerful, riveting, and shimmering songs about  vulnerability, empowerment and love. Their self-titled debut album, recorded with engineer John Abbey at Kingsize Soundlabs (Chicago, IL), comes out on November 18. Tracks featured tonight include "Highlight Reel," "Deer Fly Blues," and "Seven Stories."
---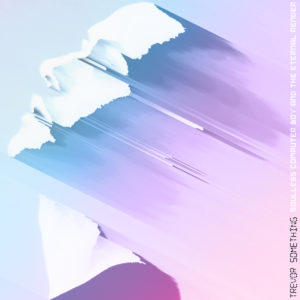 Trevor Something is a Miami-based electronic musician that that seamlessly blends his affection for 80's synthpop, electro, shoegaze, synthwave and pop to create a catchy, danceable retro synthwave. Dark, luscious and glitchy rhythms create huge spacious sounds, juxtaposed by aggressive beats and lyrics that play on word meanings, and dark themes. This is powerful and modern approach to electronic music. Tracks featured tonight include "The Possession," "Girlfriend," and "In My System(Extended Single Mix)."
---
The Sound is a band from the 80's that unfairly never received the commercial recognition it deserved. Fronted by singer/songwriter Adrian Borland, their sound was beautiful, stark and authentic. Often compared to contemporaries Echo and the Bunnymen, U2 or Psychedelic Furs, they fortunately escaped dubious production values of the era. Borland's lyrics and vocals are sincere, gripping and timeless. Emerging from the postpunk scene of the time, they released a half dozen of critically acclaimed albums throughout the 80's before their demise in 1988. A new documentary about the life of Adrian Borland and The Sound called "Walking in the Opposite Direction" is seeing its world premiere next month as part of the International Documentary Film Festival in Amsterdam. It's almost impossible to pick only three tracks from this band as their catalog is so amazingly rich. Tracks featured tonight include "New Dark Age," "Silent Air," and "Total Recall" but, you can find many more gems from this stellar and underrated group by tuning into Strawberry Tongue Radio 24/7.
Brittle Heaven
Walking in the Opposite Direction
---
That's it for this week's edition of the Friday Night Five. Be sure to tune in to Strawberry Tongue Radio at 19:00, 21:00 and 23:00 EDT to hear selected tracks from each of these bands and be sure to visit their websites for more information about their latest work and to purchase their tracks. Friday Night Five also re-airs on Saturday and Sundays at 1:00/3:00/5:00/19:00/21:00/23:00 EST/EDT.
Be sure to listen to Strawberry Tongue Radio to hear our unique playlist featuring current and classic artists playing post punk, new wave, indie, electronic and experimental music.