Friday Night Five – September 30, 2016
This week's edition of Friday Night Five is a continuation of my exploration of the music scene in Switzerland. In episodes one and two, we looked at various dreampop, shoegaze, punk, folk and indie artists, both classic and modern, of the Swiss music scene. Today, we continue that odyssey with more industrial, experimental and postpunk artists. Switzerland was the birthplace of Dadaism, which challenged the materialistic attitudes and conventional sensibilities. It proposed difficult questions of society, the role of the artist, and the purpose of art.  It mocked society and its aesthetics. Many of the bands tonight channel this aesthetic. So, fasten your seat-belts, it's going to be a bumpy ride.
---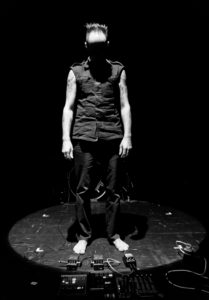 Sudden Infant has been creating some of the most complex industrial music since the late 80's. Using disparate sources for their sound excursions, they utilize  unconventional sound sources, improvisation, lo-fi electronics and turntables to create powerful rhythms, artistic explosions and challenging tomes. Formed by Basel native Joke Lanz, he has been one of the most prolific performers of the last 30 years. He has created music for contemporary dance, theatre, films, radio plays, and installations, held artist residencies in Berlin, London, and Cairo, and recorded a plethora of music for various labels around the world. Tracks featured tonight are from the 2014 release Wolfi's Nightmare including "Crane Boy (Acoustic)," "Tandoor Chicken Scooter IV," and a cover of the The Cramps song "Human Fly."
---
The Young Gods are a Swiss industrial band that formed in the mid 80's. Taking their name from the title of a Swans EP, their music is dark, brooding and electric. Using a sampler to replicate the sound of a guitar, vocalist Franz Muse has worked with various keyboardists and live drummers, most recently Cesare Pizzi and Bernard Trontin.  Tracks featured tonight include three tracks from the 1987 self-titled debut album "Envoyé,"  "Did you Miss Me," and "Soul Idiot."
---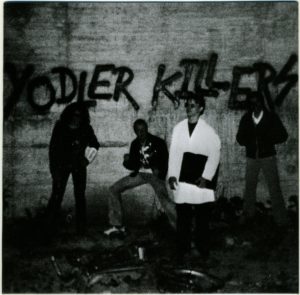 Yodler Killers is a Geneva punk band from the 70's. Comprised of A. Poubelle, Fritz Clitocaster, Tony Dilligence, Doctor Mengele and a guest appearance by keyboardist Antonio Nastasi, in their very short existence, they released only one 7″ single which saw a re-release in 2015. The single song "Jacot Masterbette" features driving, surf-inspired guitars, forceful drumming, and lyrics sung entirely in French. The B-Side of this single is the song "Søussølrøck," which has this screeching wild siren synth that makes this track just damn fun. This is some fine punk rock teeetering on the edge of new wave, too bad we didn't get more recordings from this promising group.
---
The Bastards are a female fronted punk band from the 70's. Releasing their only album on Yaki Records in 1979, they had sharp, jittery and high energy songs that veered more towards the edgier new wave sound that was prevalent at the time. Fronted by vocalist Marie-Pierre, also known as "Little Queenie," she was backed by Sandro Sursock, Ralph Perez & Benjamin Garcia on guitar, Jean-Francois Pivat on bass and Didier Dana on drums.  Their eight-track LP was recorded on May 13, 1978. Tracks featured tonight include "Impossibilities," "Schizo Terrorist," and their take on the classic Doors track "Gloria."
Website
Swiss punk discography
Feathered Apple Records
---
Dimensione is lo-fi, experimental group who released a five song EP on A Tree In A Field Records back in 2014. This four-piece group consists of Lona Klaus, Tobi Schläfli (Leech), Cristina Wirth, and Aline Rose Zeltner. Utilizing traditional instrumentation of drums, piano, synths, vocals, and echo-harp and less likely instrumentation of planks of wood as percussion. Recorded in one session, these tracks rely heavily on instrumentation and storytelling. Quirky, unsettling and oddly charming, this is one of those listens for those who are ready for a challenge. Tracks featured include "Dog," "Piccola Città," and "Matula."
Discogs
Website
A Tree In A Field
---
That's it for this week's edition of the Friday Night Five. Be sure to tune in to Strawberry Tongue Radio at 19:00, 21:00 and 23:00 EDT to hear selected tracks from each of these bands and be sure to visit their websites for more information about their latest work and to purchase their tracks. This show will re-air on Saturday and Sunday at 7:00, 9:00, 11:00, 18:00, 20:00 & 22:00 CDT/CST. Also, be sure to listen to Strawberry Tongue Radio to hear our unique playlist featuring current and classic artists playing post punk, new wave, indie, electronic and experimental music.