Friday Night Five – September 9, 2016
I hope you enjoyed the Labor Day Weekend playlist. It was damn enjoyable. The problem is, it distracted me from all the productivity that I had planned. In any case, that means, I am backlogged on emails but, always discovering tasty new morsels for the playlist and site. Enjoy!
---
So, I'm tardy to the party on this one. Idle Vision sent me an email back in April and I even communicated with them. For no other reason than trying to mop up my own occupancy leaks, their email sat in my inbox. Digging through the sorted mess last weekend, I was horrified to discover not only had I forgotten to include them, but, that they just broke up. Good gravy.  Doesn't mean we love them less, no, it just means we might crave their sound more. With a snotty, punky, 60's surf vibe, Idle Vision has a groovy, lo-fi vibe reminiscent of the B-52's, glam rock of The Velvet Underground and the energy of the Sex Pistols. It's a truly fun listen. Tracks featured tonight include "Guys and Girls," "Killer," and "He's a Baby." You may want to follow them to find out where their new projects lead.
---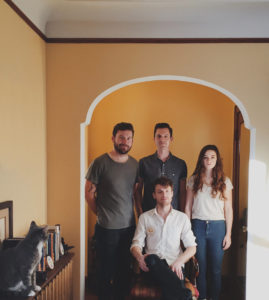 Graveyard Club is a synthpop band from Minneapolis that I immediately fell in love with. Combining somber, crooning vocals of keyboardist Matthew Schufman and bassist Amanda Zimmerman, their voices are nestled within beautiful, shimmering layers of synths, swirling guitar riffs of Michael Wojtalewicz, samples and penetrating drums of  Cory Jacobs (drums). Their sound is distinctly modern, despite heavily drawing inspiration on 80's synthpop. Their sound is haunting, delicate and danceable. They just released their third album Cellar Door last month and every song on this release has become a personal favorite.  Impactful lyrics, gorgeous synths and driving beats, this album is definitely one of my top picks for 2016. Tracks featured tonight include "Dying Days," "Nightcrawler," and "Werewolf Teeth."
---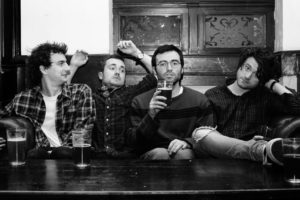 Sorority is a quartet from London that has a driving guitar sound, paired with punk attitude and brawn. With an irreverent approach to their lyrics, a powerful rhythm section and a healthy dose of unabashed rock out with your cock out, they put the awe in "awwww yeah." Powerful and noisy like postpunk heavy hitters Crispy Ambulance, Sorority is an energetic powerhouse to keep your eye on. They released their EP "Are You Contagious?" in December of 2015. Tracks featured tonight include "Satisfied," "Telemercial," and "Replicate."
---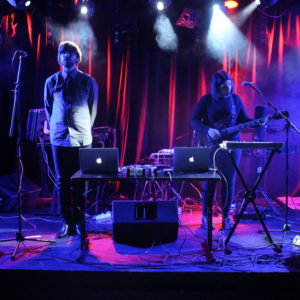 Kaamosmasennus is a Finish duo comprised of Samuli Peurala and his partner Milla. With a darkwave, minimalist electronic sound, they combine samples, sinister synths and obscured vocals to create a murky, thrilling and melancholic sonic landscape. Their name, which translates to seasonal affective disorder (S.A.D) seems a perfect description to their dark dystopia that is sprinkled with glittering effects reminiscent of late Joy Division and early New Order. Their 2015 "Valosaaste" EP was written over the course of dark evenings spent at a lakeside cottage, which inspired their brooding sound. Tracks featured tonight include "Velleity," "M.A.P.," and "Tunne ."
---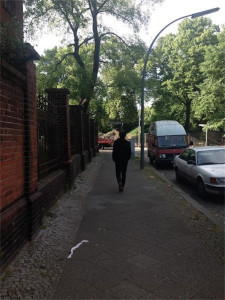 One of my favorite Berlin-based bands has released a few more tracks and are getting ready to release their first LP. Vorderhaus, comprised of Brits Mark and Danny, are one of my favorite finds of 2016. Creating gorgeous dark electronic tracks, their luscious synths are paired with lyrics that touch on topics of doubt, unrequited love, mortality and intuition. Reminiscent of the very earliest Duran Duran or even Human League, it is melancholic synthpop at its finest. Working on new material for their upcoming vinyl release at an undisclosed date, Strawberry Tongue is excited to premiere new tracks featured tonight include "Catabombs," Danny's favorite track "Fading Sun," and one of their earlier tracks and my personal favorite "Black Suspicion."
---
My bonus track this week is inspired by a band that I featured a couple of weeks ago called The Intelligence Service, who rekindled my love of The B-52's. Their music is catchy, campy and delirious, which is just a nice way to finish off tonight's playlist on a lighter note. Looking back at their first album, I am featuring tracks "Hero Worship," "Planet Claire," and "Dance This Mess Around."
That's it for this week's edition of the Friday Night Five. Be sure to tune in to Strawberry Tongue Radio at 19:00, 21:00 and 23:00 EDT to hear selected tracks from each of these bands and be sure to visit their websites for more information about their latest work and to purchase their tracks. This show will re-air on Saturday and Sunday at 7:00, 9:00, 11:00, 18:00, 20:00 & 22:00 CDT/CST. Also, be sure to listen to Strawberry Tongue Radio to hear our unique playlist featuring current and classic artists playing post punk, new wave, indie, electronic and experimental music.