Friday Night Five – September 23, 2016
Tonight's show might be one of my most erratic that I have done for a while. This week, I am dipping my toes into electronica,  and industrial, and a healthy dose of postpunk. And, well, you know, dear reader, I cannot resist any kind of an experimental flair. We start off with a luscious new electronica from there, we quickly jump off into a world of depravity, nihilism and cynicism. You're welcome.
---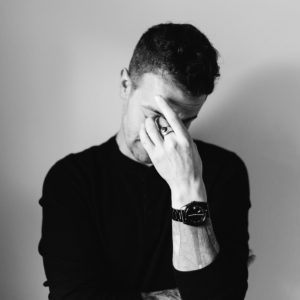 Elwell is a Minnesota musician that I have followed for a while that recently moved to Los Angeles. With intermittent shows over the last couple of years and a complete paradigm shift in his musical direction, he released his new full-length album this month. Changing from folk-inspired,  lo-fi rock to a more electronic and synthesized sound, Elwell's exquisite songwriting style is not lost by this new shift. His lyrics, ranging the spectrum from devastating to hopeful, read like lovely poems and mementos to his past.  Incorporating electronica into his already darkly-tinged tracks, his new material is fresh, and a reminder that great songs always translate across medium. Songs featured include three new tracks "Closer," which was introduced to Strawberry Tongue earlier this year, "Let the Rain Come Down," and "Break-Mend."
---
Privacy/Policy was a postpunk band from Ohio that existed around 2014-15. Creating a dystopian soundtrack for Western civilization, their sound is seasoned with driving guitars and fierce rhythms. The trio consisted of Eric Pollarine, Richard Kundracik, and J.A. McNamara and combined vox, guitars, organ, drums and a heavy dose of noise. Their overall sound shimmers and growls not dissimilar to Bauhaus or Jesus and the Mary Chain. Both soaring and sinister, this is the kind of music that makes the listener feel like they should always be looking over their shoulder in case there is something creepy behind them waiting to pounce. Tracks featured tonight include the aptly named "Dystopia," "Time," and "Observation."
---
Juxta is a one-man project from the UK that combines elements of industrial, darkwave, garage rock, metal, and punk. Inspired by music of the 70's and 80's he creates a bratty, irreverent and jittery soundscape. Juxtaposing these elements he sculpts a sound that might just be a tip of the hat to heavy hitters like The Stooges, The Damned, KMFDM and Ministry. Tracks featured include "The Beautiful Ones," "Telemarketers," and "Religion Isn't An Excuse."
---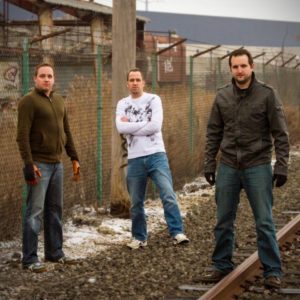 Jugem's Cloud is an industrial project from Chicago that combines creepy samples and sinister synths. Bathed in a healthy dose of experimentation, heavily effected vocals, and seering guitars, this music is not for the faint of heart. Their sound is aggressive, energetic and brooding, recalling 80's and 90's industrial acts like Front 242 and Front Line Assembly,. Their sound is machinistic, menacing, clanging, nihilistic, and robotic. Tracks featured include "Distress Signal," "Stasis," and "Perpetual Depths."
---
The Soft Moon is a postpunk project of Luis Vasquez from Oakland, California. Combining elements of darkwave, psychedelics, electropunk, krautrock and world music, he creates a sonic space that is otherwordly, foreboding and thickly layered with bold washes of scintillating effects. His often bleak lyrics focus around self-doubt, loathing and lost love are secondary to the overall atmosphere that he meticulously curates and hones with his unique ability to cross genres and seamlessly marry them into a beautiful, boundless and distinct sounds. Tracks featured tonight include "Deeper," "Inward," and "Dead Love."
---
That's it for this week's edition of the Friday Night Five. Be sure to tune in to Strawberry Tongue Radio at 19:00, 21:00 and 23:00 EDT to hear selected tracks from each of these bands and be sure to visit their websites for more information about their latest work and to purchase their tracks. This show will re-air on Saturday and Sunday at 7:00, 9:00, 11:00, 18:00, 20:00 & 22:00 CDT/CST. Also, be sure to listen to Strawberry Tongue Radio to hear our unique playlist featuring current and classic artists playing post punk, new wave, indie, electronic and experimental music.