Friday Night Five – August 19, 2016
This week's lineup consists of a lot of bands that have psychedelic and experimental influences. Within that realm, their sounds expand into surf, dreamrock, garage, and exquisitely weird pop tracks.  Hey, don't blame me if your mind gets blown. I'm just here to spread the love.
---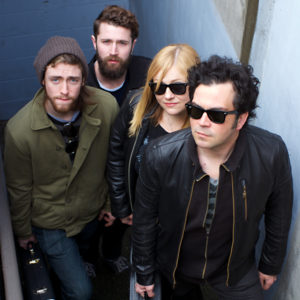 The Intelligence Service is a four-piece psychedelic garage rock band from Vancouver, Canada that is simply a damn fun band. They combine disparate sounds, shimmering guitars that swirl into surf anthems, haunting vintage organ sounds, droning synths, tight, fierce drums and vocals delivered in a classic style similar to the call and response of the B-52's boy-girl vocals. It's beautiful madness at it's finest. With flourishes of psychedelic, postpunk, surf and art rock, their sound and energy is infectious.
Recently releasing their EP Maladies,  the tracks featured this evening include "Distracted," (edited from it's 14 minute release), "School Me," and "Can't Believe."
---
Maheekats is a dream rock band out of California comprised of Clara Efrona and Craig Camp. They blur the lines between rock, folk, ethereal and psychedelic creating a unique groove. They cite diverse influences such as Sun Ra, XTC, Yes, The Specials, Phoebe Snow, and Killing Joke. While the influences are so seemingly random, it makes perfect sense with their overall vibe. Efrona's sweet vocals range from delicate, swooping falsettos to bluesy growls. Paired over luscious melodies of psychedelic and post-punk influenced guitar, bass and drums, Maheekats sound is distinctly modern and yet feels so wonderfully familiar.
Tracks featured include "Lady in Space," "Eureka," and "I'm So Lucky."
---
Children of Leir is a three-piece psychedelic horror pop group that is influenced by Krauttrock, shoegaze, electronic, and experimental music. Dividing their time between Leicester, UK and Hamburg, Germany they play a blend of searing dark psychedelic rock that will blow your mind. From droning synths, to flangey guitars, their melodies are dark, luscious, simmering and spacey. Comprised of Gregg Hunt (guitar, vocals), Stuart Gray (keyboards, vocals) and Helena Hauff (vocals), the band started quite casually and became an extension of musical exploration for Hunt and Gray, who had been in numerous other projects. Helena, an experimental electro artist has joined them adding her own flair to their already blistering psychewave sound.
Tracks featured tonight include "Shades," a cover of the Lee Hazelwood song, "Inertia," and "Nausea."
---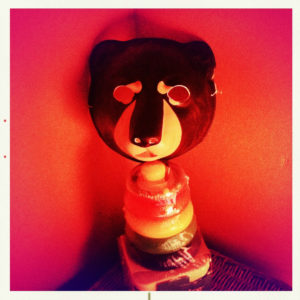 Surface Hoar is a project by Matthew Amundson that combines the use of collected sounds and field recordings to create unique compositions that rely less on instrumentation and more on creating rhythms and auditory patterns from unique samples. It's esoteric, it's glitchy, it's unsettling, and it's positively delightful. Amundson's ear for combining these found sounds into perfect and weird pop tracks is exquisite.  It's not for the faint of heart. This is the kind of music that makes my art-school-weirdo-roots want to dance barefoot in mud puddles.
Tracks featured tonight include "Warm Velvet Mystery," "Luminous Beings," and "Rabbit Lungs."
---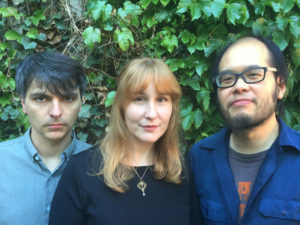 Lake Ruth is a three-piece group that explores the sound of 60's experimentation, blending elements of baroque pop, pysch, kraut, jazz and electronic music. Their sound is rich, textural and atmospheric. Forming in 2015, the band is comprised of multi-instrumentalist Hewson Chen (The New Lines), drummer Matt Schulz (Holy Fuck, SAVAK, Enon) and vocalist Allison Brice (The Eighteenth Day of May, The Silver Abduction). Brice's vocals are delicate, sweet and mesmerizing over gorgeous washes of synths, layers of retro organ and beautifully subdued drums. This album is magical, expansive and totally chill.
Tracks featured tonight include "Cabin Fever," The Greenfield Industrialist," and "Helium."
---
That's it for this week's edition of the Friday Night Five. Be sure to tune in to Strawberry Tongue Radio at 19:00, 21:00 and 23:00 EDT to hear selected tracks from each of these bands and be sure to visit their websites for more information about their latest work and to purchase their tracks. Also, be sure to listen to Strawberry Tongue Radio to hear our unique playlist featuring current and classic artists playing post punk, new wave, indie, electronic and experimental music.