Friday Night Five – July 22, 2016
Thanks for checking into Friday Night Five. This week, I am focusing on bands that hail from Poland. Having a personal connection to the country, I have always had an admiration for the versatility and determination of artists from the region of Europe. Politically and economically ravaged during WWII with over six million citizens exterminated, then under Communist control for decades thereafter, the Polish art community managed to flourish even under stark realities. Given the climate, it comes as no surprise that there is a lot of darkly-themed music from the country which is near and dear to the pulse of Strawberry Tongue.
---
Hände is a postpunk band from Warsaw Poland. Their sound uses a lot of distortion of both vocals, guitars and synths. With driving bass lines, sinister synths and angular guitar rhythms, this trio is creating a modern postpunk that has influences of new wave and new romantic bands from the 80's. Tracks featured tonight include "Nowy Wspaniały Świat," "Koniec," and the symbolically named "Δ."
---
Under the Skin is a coldwave project of Mariusz Łuniewski who is based out of Kraków.  Minimalist analogue production paired with a dark atmospheric sounds make this music the kind of music you feel deep within your soul. With ferocious, throbbing bass lines, sinewy guitar rhythms, and growling synths, vocals are darkly themed and filtered with dissonant detachment that is reminiscent of 80's band Clan of Xymox. This is powerful, emotive and tempestuous material. Joined in live performances by Tom Tylor and Maciej Dąbrowa, Łuniewski's work is incredibly powerful and something to watch in 2016. The self-titled album released about a year ago is available digitally and with some special editions on Bandcamp. Tracks featured include "Cold," Undone" and a new single "Wave" that was released last month.
---
Controlled Collapse is an electronic darkwave group from Łódź. The brainchild of Wojciech Król, their sound is mechanical, bombastic and post-apocalyptic. With influences of industrial, techno and darkly-tinged rock music, their heavily effected vocals are layered over throbbing drum beats and frenetic synths. Releasing music since 2003, they have largely followed their own path, without the limitations of label support and influence. Tracks featured include "Things Come to Pass," "Ruins (Mental)," and "The City."
---
Monstergod is a band that is actually recommended by Controlled Collapse and Strawberry Tongue agrees. The Polish duo hails from Warsaw and consists of Smola (synths, guitars, programming) and Schitter (vocals, keyboards, samples) and has a dark, electronic industrial dance sound reminiscent of Laibach and Front Line Assembly. Forming in 2004, they have a developed their sound combining elements of EBM, dark electro and industrial music. Lyrics are frequently inspired by the works of Charles Baudelaire, William Blake and James Joyce and interpretations of their poems and essays. Ominous and gothic in nature, MonsterGod's music is  desolate, dark and danceable. Tracks featured include "Insomnia," "Sleep Now," and "Jerusalem."
---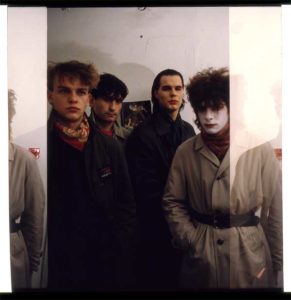 Siekiera is a classic coldwave band that, during their short six year existence, became one of the most influential in the country. Inspired by English group Killing Joke, their initial sound was a brash and aggressive. Migrating to a more New Wave sound, they combined angular guitar, driving bass rhythms, sweeping synth sounds and heavy percussion. Forming in 1983, in addition to their sound evolving, they went through a name change and some lineup changes. Their only full length album Nowa Aleksandria was released in 1986 with the members Tomasz Adamski (guitar, vocals, lyrics, music), Paweł Młynarczyk (synths), Zbigniew Musiński (percussion) and Dariusz Malinowski (bass, vocals).  The band broke up in 1988. In 2011, Adamski released a new album under the name Siekiera. Tracks featured include "Nowa Aleksandria," "Ja Stoje, Ja Tancze, Ja Walcze," and "Idziemy Na Skraj."
---
Experimental musician, artist, and poet Michał Rutkowski's track "Orient" is our bonus track for this evening. Hailing from Warsaw, Rutkowski's unorthodox approach to song structure, makes this unique instrumental track a perfect track to wind down the evening.
---
That's it for this week's edition of the Friday Night Five. Be sure to tune in to Strawberry Tongue Radio at 19:00, 21:00 and 23:00 EDT to hear selected tracks from each of these bands and be sure to visit their websites for more information about their latest work and to purchase their tracks. Also, be sure to listen to Strawberry Tongue Radio to hear our unique playlist featuring current and classic artists playing post punk, new wave, indie, electronic and experimental music.