Friday Night Five – July 8, 2016
I realized this week that we were already into the third quarter of the year! It's July, people! Where has 2016 gone? I decided I needed to do another round up…my top five of the second quarter for 2016. (To see my top five for January-March, visit this page.) These are my five favorite bands that I have added to the playlist from April, May and June.
---
Odonis Odonis is a Toronto trio that combines punk aesthetics with electronics, industrial, and Sci-Fi to create a breathtaking, energetic and darkly swirling dystopian sounds. Forming in 2011, they have released a handful of LPs and a number of singles, forging new territories and expanding their vastly rich sound. Their lineup consists of Dean Tzenos (Vocals), Denholm Whale (Bass) Jarod Gibson (Rhythm).  Tracks included tonight include "Nervous," and "Needs" from their Post Plague album which was released today and an older track, "Mr. Smith" from their debut album Hard Boiled Soft Boiled.
---
Liyv is a dreampop artist from Seattle who makes "sad songs for people who like bright colors." Her beguiling vocals are paired over luscious, pitter-pattering synths, a sound only equivalent to the way light is captured by gentle dewdrops trapped in a spiders web. Her sound is magical, wispy, and sensuously tranquil. At the beginning of 2016, Liyv began releasing one new song each month on Soundcloud. We are featuring three of these tracks including "Splintered Arms," "You Should Know Better" and the exquisite "Heat."
Since we first introduced Liyv, she has posted two more free tracks to her Soundcloud page as part of her "Song a Month" project.
---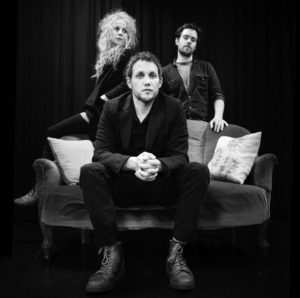 Featured in my Switzerland edition, Goldbarne is a sumptuous three-piece that plays a hushed, acoustic indie folk that is heart-rendering. Comprised of guitarist Dragan Pijetlovic, double bassist Marian Rivar and vocalist/lyricist Frank Wenzel Both, their music is both beautiful and sad. Delicately it speaks of longing, unrequited love, and fleeting dreams. They released their gorgeous EP "Wintergreen" in April of this year and you can purchase it on their Bandcamp page. Songs featured include, "In This World," "Wintergreen," and the haunting "The Lure."
I have an ironic, not ha ha funny story, about Goldbarne. I was in Switzerland when this show was broadcast, but, I couldn't actually listen to it. I was super bummed out because I found such great bands. When I came home to the U.S., I logged into my computer and fired up the station and the first song that played was "The Lure." It's like the universe knew what I was missing.
---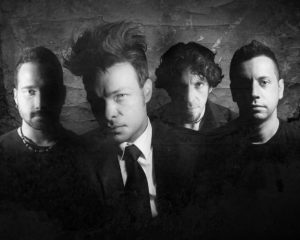 Feeding Fingers is a darkwave project with one consistent member, Justin Curfman. Hailing from Atlanta, Justin currently lives in Berlin. Since 2006 he has released five albums that are glimmering and darkly-tinged tales that weave together in a lovely web of songs of grief, loss, despair, loneliness and anger. Inspired by darkwave, krautrock, experimental and world fusion, his style is multi-dimensional and quite simply breathtaking. His most recent release from 2015 entitled "Attend" is an opus of his exploration in music, artistic freedom and collaboration with a number of musicians from around Europe. Tracks featured include "Where all these towns and choices end," "Polaroid Papercuts," and "Your Candid Laughter Crawls."
---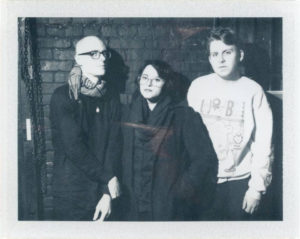 Ghost Noise is a trio based out of Los Angeles that plays an ethereal, minimalist and shimmering electronic goth that is both gloomy and catchy at the same time. Dramatic male and female vocals are paired over  delicate guitar melodies and synth washes. Their songs are steeped in dark tinges and ancient ritualistic sounds which feel like you are partaking in a dark ceremony that is shimmering with glitter. Tracks featured include: "Farther and Fainter," "Darker the Night, Deeper the Sea," and "Throne of the Third Heaven."
---
My bonus tracks this week come from the classic post punk/electronic group Section 25. Originally on the Factory label, Section 25 is a band that is hard to quite categorize as solely postpunk, or new wave, or experimental, or industrial, but, they have elements of each of these influences woven throughout their work. Forming in the late 70's and originally mentored by Joy Division, they released four albums, one produced by the great Martin Hannett. They took a lengthy hiatus in the late 80's until 2007. Since then, the band has released several albums with a revised lineup due to untimely deaths by longtime members Jenny Ross and Larry Cassidy.  Section 25 is one of those bands that continually pushes the limits and expand their musical terrains. Tracks featured tonight include classic tracks, "Je Veux Ton Amour," "Carcrash," and "Sprinkling Petals Into Hell."
---
That's it for this week's edition of the Friday Night Five. Be sure to tune in to Strawberry Tongue Radio at 19:00, 21:00 and 23:00 EDT to hear selected tracks from each of these bands and be sure to visit their websites for more information about their latest work and to purchase their tracks. Also, be sure to listen to Strawberry Tongue Radio to hear our unique playlist featuring current and classic artists playing post punk, new wave, indie, electronic and experimental music.