Friday Night Five – July 1, 2016
Happy Independence Weekend, 'Merica. While you are all sitting around drinking beer in your backyards and blowing shit up, I will be in my house, with my two very stressed out dogs, with fans and music on full blast. The five bands featured tonight will be rotated heavily on my weekend playlist. While some of you may be listening to Bruce Springsteen and being proud to be born in the USA, my playlist will be brimming with the sweet, sweet sounds of goth, post punk, and doom folk, shoegaze, and electro-pop, many of these tracks from our closest allies. Three out of five (six) ain't so bad, but, we can hardly call this edition the Canadian invasion, but, what the hell, we're going for it.
---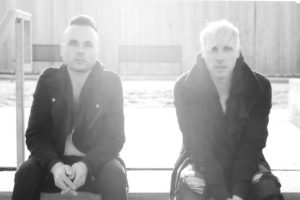 Traitrs is a post punk duo from Toronto consisting of Sean-Patrick Nolan and Shawn Tucker. Working with producer Josh Korody, the band developed their sound, featuring dark, textural layers of ferocious percussion, giant waves of reverb, and powerful rhythm sections evocative of Pornography-era Cure, Sisters of Mercy, and Bauhaus. During the course of their session recording their debut album, Tucker spent time recovering from an unfortunate accident, which broke him physically and mentally. He went into a cycle of incessantly watching Italian horror films, lending inspiration to the lyrics that are focused around occult madness, sacrifices, purity, piety, witchcraft, mid-century religion, ghosts and death. The final result is powerfully forboding, somewhat menacing, and ultimately, breathtaking and haunting. If you have ever suffered, physically, mentally, emotionally, this album will strike a chord with you that few dare to go.  Their debut album was released earlier this week on the Pleasance Records label and is safely  in my top ten for 2016.  Tracks featured tonight include Youth Cults, Gallows Hill, and Burnt Offerings.
---
Solemn Shapes is a duo from Charlotte, the historical and haunted town in North Carolina. Playing a blend of dark electronica, with bold strokes of industrial and experimental influences, they utilize an arsenal of  synthesizers, samplers and drum machines to create dark distorted beats, vocal and sampled effects, and warped synth tones which evoke a haunting, psychedelic vibe. Reminiscent of Throbbing Gristle, Cabaret Voltaire and à;GRUMH, their sound creates a modernistic, tantalizing, and spellbinding web that is impossible to escape. Songs featured tonight include The Lights (Psychic Driving Mix), Need, and a new single Kulture. Look for a self-titled debut release later this year.
---
Audiodeluxe is a duo out of Glasgow, Scotland that has been making music since the late 90's. The husband and wife team of Sammy and Dez have three EPs available for download on bandcamp, and each of their songs have a decidely different flair, from electronic chill, to shoegaze, to art rock. Influenced by Depeche Mode, Radiohead, and even Rage Against the Machine, they take you on a aural journey that is trippy, warm and bright. Evocative vocals are layered on top of seductive, sweeping synth tracks, and delicate guitar melodies. Tracks featured tonight include Treasure, The Day I Died, and To Drown is Love.
---
Honey Beard is a dark pop duo from Toronto that has been creating music since 2012. Releasing their debut EP last year, A Thousand Million Things they balance dark synths with bright, thumping beats to create an infectious electro-pop that melodic, melancholy and magical. Recently nominated for best pop group from TIMA (Toronto Independent Music Award), they have also recently signed to the UK indie label NUB records.  Dark underpinnings derive from influences such as Depeche Mode, MGMT, and The Doors, which are paired alongside their dalliance with a pop mistress, making their songs sexy, sleek and oh-so-delicious. Honey Beard provide a modern day soundtrack for bleak times. Songs featured tonight include Hummingbird, Drive, and Into the Night.
---
The Dearly Bereft is a quintet that morbidly jokes they are Toronto's first funeral band. Playing a downtempo blend of folk, trip hop, and punk, their sound is dreamy, melancholy, and introspective. Hushed vocals are paired over luscious arrangements that are developed with a beautiful subdued elements, creating a gorgeous space that is both somber and yet, bright and luminous. Their Kurt Vonnegut-referencing final track, "So It Goes", is one of living in the moment. "We're still alive," the chorus goes, "so let's make some noise for us."  Tracks featured tonight include Laura Palmer, Some Devil, and So It Goes.
---
My bonus tracks tonight are from Swedish band Love is All. Their infectious pop punk sound is so damn delicious, it's hard to pick just one, so I've added my favorite dozen or so to the Strawberry Tongue playlist. It's a surprise what will be in the lineup tonight.
That's it for this week's edition of the Friday Night Five. Be sure to tune in to Strawberry Tongue Radio at 19:00, 21:00 and 23:00 EDT to hear selected tracks from each of these bands and be sure to visit their websites for more information about their latest work and to purchase their tracks. Also, be sure to listen to Strawberry Tongue Radio to hear our unique playlist featuring current and classic artists playing post punk, new wave, indie, electronic and experimental music.