Friday Night Five – October 7, 2016
I've spent the last couple of weeks touring around Munich, Germany and Zurich and Basel, Switzerland, where I picked up a host of great new music to play in the next couple of weeks. In the meantime, I have whittled down my third quarter picks for my top five bands. This was really hard because I had the honor to feature such great bands the last three months.
---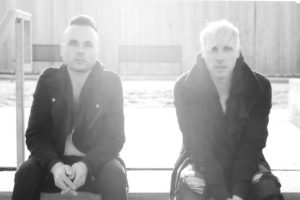 Traitrs is a post punk duo from Toronto consisting of Sean-Patrick Nolan and Shawn Tucker. Working with producer Josh Korody, the band developed their sound, featuring dark, textural layers of ferocious percussion, giant waves of reverb, and powerful rhythm sections evocative of Pornography-era Cure, Sisters of Mercy, and Bauhaus. During the course of their session recording their debut album, Tucker spent time recovering from an unfortunate accident, which broke him physically and mentally. He went into a cycle of incessantly watching Italian horror films, lending inspiration to the lyrics that are focused around occult madness, sacrifices, purity, piety, witchcraft, mid-century religion, ghosts and death. The final result is powerfully forboding, somewhat menacing, and ultimately, breathtaking and haunting. If you have ever suffered, physically, mentally, emotionally, this album will strike a chord with you that few dare to go.  Their debut album was released this summer on the Pleasance Records label and is safely  in my top ten for 2016.  Tracks featured tonight include Youth Cults, Gallows Hill, and Burnt Offerings.
---
The Dearly Bereft is a quintet that morbidly jokes they are Toronto's first funeral band. Playing a downtempo blend of folk, trip hop, and punk, their sound is dreamy, melancholy, and introspective. Hushed vocals are paired over luscious arrangements that are developed with a beautiful subdued elements, creating a gorgeous space that is both somber and yet, bright and luminous. Their Kurt Vonnegut-referencing final track, "So It Goes", is one of living in the moment. "We're still alive," the chorus goes, "so let's make some noise for us."  Tracks featured tonight include Laura Palmer, Some Devil, and So It Goes.
---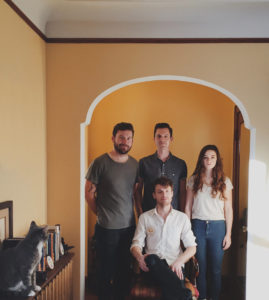 Graveyard Club is a synthpop band from Minneapolis that I immediately fell in love with. Combining somber, crooning vocals of keyboardist Matthew Schufman and bassist Amanda Zimmerman, their voices are nestled within beautiful, shimmering layers of synths, swirling guitar riffs of Michael Wojtalewicz, samples and penetrating drums of  Cory Jacobs (drums). Their sound is distinctly modern, despite heavily drawing inspiration on 80's synthpop. Their sound is haunting, delicate and danceable. They just released their third album Cellar Door in August and every song on this release has become a personal favorite.  Impactful lyrics, gorgeous synths and driving beats, this album is definitely one of my top picks for 2016. Tracks featured tonight include "Dying Days," "Nightcrawler," and "Werewolf Teeth."
---
Odonis Odonis is a Toronto trio that combines punk aesthetics with electronics, industrial, and Sci-Fi to create a breathtaking, energetic and darkly swirling dystopian sounds. Forming in 2011, they have released a handful of LPs and a number of singles, forging new territories and expanding their vastly rich sound. Their lineup consists of Dean Tzenos (Vocals), Denholm Whale (Bass) Jarod Gibson (Rhythm).  Tracks included tonight include "Nervous," and "Needs" from their Post Plague album which was released this summer and an older track, "Mr. Smith" from their debut album Hard Boiled Soft Boiled.
---
Under the Skin is a coldwave project of Mariusz Łuniewski who is based out of Kraków.  Minimalist analogue production paired with a dark atmospheric sounds make this music the kind of music you feel deep within your soul. With ferocious, throbbing bass lines, sinewy guitar rhythms, and growling synths, vocals are darkly themed and filtered with dissonant detachment that is reminiscent of 80's band Clan of Xymox. This is powerful, emotive and tempestuous material. Joined in live performances by Tom Tylor and Maciej Dąbrowa, Łuniewski's work is incredibly powerful and something to watch in 2016. The self-titled album released about a year ago is available digitally and with some special editions on Bandcamp. Tracks featured include "Cold," Undone" and a new single "Wave" that was released last month.
---
That's it for this week's edition of the Friday Night Five. Be sure to tune in to Strawberry Tongue Radio at 19:00, 21:00 and 23:00 EDT to hear selected tracks from each of these bands and be sure to visit their websites for more information about their latest work and to purchase their tracks. Also, be sure to listen to Strawberry Tongue Radio to hear our unique playlist featuring current and classic artists playing post punk, new wave, indie, electronic and experimental music.