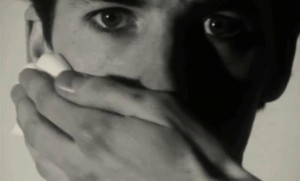 Frank Tovey, more famously known for his stage name Fad Gadget, was an avant-garde electronic musician. His work was important to both New Wave and Industrial music in the 1980's.
Tovey's delivery of lyrics in a droning tone often spoke of human sexuality, machinery, isolation, religion and violence, often were tinged with layered meanings embedded with double entendre.
As a performance artist, he was very conscientious about what he recorded and how his performances were perceived. He used synthesizers, guitars, drum machines and found objects to create the sounds on his recordings. His live performances were frenetic and frequently resulted in injury for the energetic Tovey.
He released four studio albums under the pseudonym Fad Gadget and seven studio albums under the name Frank Tovey. Under each name a compilation serving as a "best of" under each was also released. His influential work still resonates in the world of  rock, punk, folk, and dance music.
In 2001, he resurrected his pseudonym and supported Depeche Mode on their Exciter tour. Sadly, the next year, Frank Tovey passed away at the age of 45. He was in the process of recording new material at the time of his death. He suffered from heart problems since childhood and died of a heart attack on April 3, 2002, leaving behind a legacy of work that has been seldom matched by his contemporaries.
Strawberry Tongue Radio features two Fad Gadget singles including Back to Nature and Love Parasite.
Learn more about Fad Gadget at his official website or Wikipedia.
Pick up Fad Gadget and Frank Tovey works at iTunes.