Dada's Noise is a band from Nantes, France that was active in the early 90's. Their sound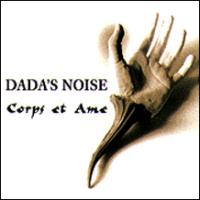 is classic French coldwave in that they chose to sing in French rather than English. They released three albums between 1991 – 1995, the first self-released and the next two on the Prikosnovénie label.
Their sound is very icy, detached and somber post punk with vocals delivered with a monotone and expressionless tone. Instrumentation for this group is understated, with a low and controlled bass, angular guitars, tight drumming patterns and improvisational style saxophone. Their lyrical content is raw and deals with challenging topics of prostitution, homosexuality, good and evil, and the human condition.
Their sound is reminiscent of Joy Division, Charles de Goal, Second Room or early 80's French cult band Marquis de Sade.
Members of Dada's Noise include:  Yves Gaudin (voice), Christophe (guitar bass), Stephane (guitar), Laurent (drums), Fix (sax).
Strawberry Tongue Radio is currently streaming the song, Viva le Muerte from their album Corps et Ame, which included contributions from band Cherche-Lune. 
I've not found a very reliable source online for music from Dada's Noise. I recommend checking out GEMM.