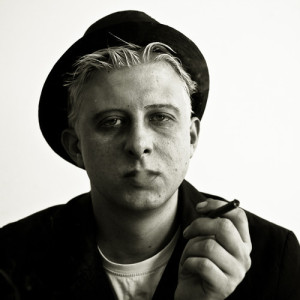 Vienna based musician, Clemens Engert aka Alien Hand Syndrome, is a singer/songwriter whose style of music gleans inspiration from disparate music styles such as alternative rock, darkwave, shoegaze, gothic, post rock, and industrial. His lyrical inspiration comes from existentialist literature. What makes his sound unique is the structure of his music, which leans towards the use of classical cello and piano arrangements that are layered throughout the work. Quite simply, his music heartbreaking, breathtaking, and haunting.
Where the classical arrangements begin is where any obvious traditional style ends. His music is very visceral, forcing the listener to take this journey with him through anger, fear, alienation, and hope. Every emotion that Clemens is feeling, through both the music and the words, permeates your entire being. There is no turning back.
He released his first full length album in 2011, The Sincere & The Cryptic, to critical acclaim around the world. His vocals range between hushed, anguished, and robotic distortions. Industrial elements of intense drums and thrashing, and bubbling synths weave throughout the work. Slumber, the 2013 release, finds itself more understated, the more aggressive traits of his first release have been stripped down and refined with a somber atmospheric sound and soul crushing lyrics. Slumber is a stunning release that fascinates with its complexity and renders your heart with lyrics of isolation, regret, and abandonment.
Strawberry Tongue Radio is currently streaming Ballad About The Cranes and Sore Moon from  the 2013 release Slumber.
Find out more about Alien Hand Syndrome at the official website.
You can pick up Alien Hand Sydrome on iTunes.